Adeniji taking reps with top group at OL
One of the big surprises of fall camp has been the emergence of true freshman Hakeem Adeniji. The offensive lineman from Garland, Tex. didn't show up until the middle of summer.
David Beaty said on Monday Adeniji has been running with the first unit and did so in the scrimmage on Saturday.
Offensive line coach Zach Yenser said Adeniji has shown ability and progress you usually don't see from linemen who just showed.
"I know what he's going to do when he steps on the field," Yenser said. "He's not going to go the wrong way. He's not going to get run around the edge. That's what's been so refreshing about him is that he's very, very consistent. You don't find that very often as an 18 year-old."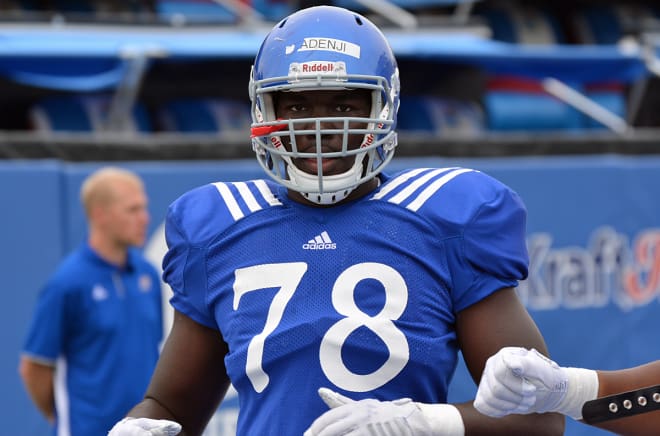 Adeniji came from Garland High, where he was a first-team, all-district selection. Originally he signed with Air Force but was allowed to transfer before his freshman year started. Yenser is glad to he made the decision to move to Lawrence.
"We are very blessed to have him here up front," Yenser said. "He has been repping at right tackle and also right guard. I have all the confidence in the world for him to play either one. His pad level, the way he can use leverage that he plays with, and he's instinctively smart."
In the last two seasons several young offensive linemen have seen the field under Yenser. It comes down to their approach and what they tell the players when they first arrive on campus.
"You tell those guys coming in here don't come in with the mindset that you were going to redshirt," Yenser said. "If you have that mindset that is going to affect how you work in the summer and fall camp. You need to get here and have the mindset you are going to compete for a position. Then the redshirt will handle itself."