Agbaw will visit Kansas, Chevis Jackson has ties into Georgia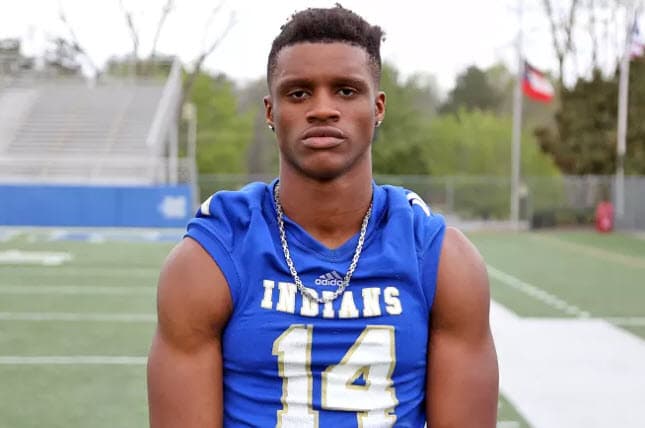 The Jayhawks are expected to get a visit from Georgia speedster Valerian Agbaw. He's an early target on the Kansas board because of his relationship with new defensive backs coach Chevis Jackson.
"Me and Coach Jackson are close and I talk to him almost everyday," Agbaw said. "He told me I can get a chance to show my talent at a high level and get an education while I'm doing it."
Agbaw is explosive in the open field and excelled in the return game for McEachern High. He played both ways as a corner and receiver and handled punt and kick returns.
"He (Jackson) said he likes my explosiveness and the edge I play with," Agbaw said. "My strengths are I can help in the return game and play defense."
There are several division one schools in the mix including Kansas, Western Michigan, and Kent State. Agbaw said he wants a family environment at the school he chooses. He also said he will get advice from his sister during the recruiting process.
He confirmed he is scheduled to take a visit to Lawrence on Dec. 14.
Jackson had success recruiting Georgia before arriving at KU
Agbaw won't be the last recruit you hear about being linked from Georgia to Kansas. That's because Jackson has ties to the area and recruited well for Ball State. Jackson played for Miles at LSU and was a grad assistant there after leaving the NFL.
He was MAC Recruiter of the Year where he had success signing players from the Georgia area.
"He made a name for himself on the recruiting trail by going into Georgia and signing eight kids of the 2017 class, Ball State's best in recent history," said Ryan O'Gara who covers Ball State for the Star Press. "That's no small feat considering the difference in climate of Georgia and Indiana."
It wasn't just on the recruiting that Jackson had success. His defensive back group showed progress at Ball State.
"As a coach, the defensive backs have been one of the most improved position groups," O'Gara said. "The secondary has been a weakness the last few years, but this season, you could see the promise with those young players. He's leaving that group in a better position than he inherited them. I think it's going to be a position of strength for Ball State the next few years.
"He was the coach I saw stay after practice the most for extra work with his guys. He really seemed to enjoy it."