ANALYSIS: KU class off to good start, still work to do
So far through noon on the first early signing day under NCAA rules, the Kansas class 59th in the country. When you look closer at the numbers and who is in front of them there is a strong chance the class will finish inside of the Top 50.
The class will finish ahead of several teams that went to bowl games. Why do some of those numbers and facts stand out? The Kansas program was coming off a 1-11 record and had to battle through a rough year.
The Kansas class so far has turned out about as well as you would want. Sure there were some that got away like Devonta Jason, but the staff landed a high percentage of their targets and those who took official visits.
All eyes turn to Pooka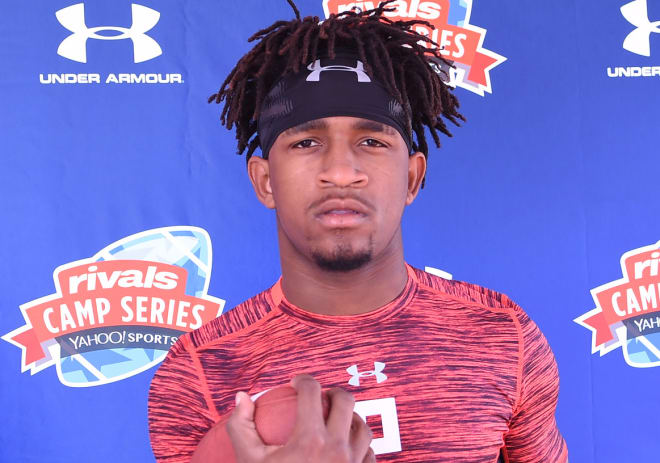 One of they key pieces to the class running back Pooka Williams has yet to sign. The word is he could sign on Thursday. It is believed Williams will come down to Kansas and LSU.
Williams led the state of Louisiana this year and won some player of the year honors. He is the only running back the staff has targeted in the early signing period.
Fighting off the big-time programs
Back when Kansas offered Jacobi Lott there were very few schools who knew about him. At 6-foot-4, 305 pounds he has the strength to play early and according to those in the program a nastiness about him.
Lott told Jayhawk Slant this morning he received a late offer yesterday from Texas and heavy interest from Oklahoma State. But he remained loyal to Kansas and signed.
There were several others like Najee Stevens-McKenzie, Corione Harris, Aazur Kamara, and Elijah Jones who were getting phone calls from college recruiters in the last 48 hours trying to change their mind.
There is still work to do
The staff knocked out a big chunk of their list in the early signing period. But there is still work left over the next six weeks.
One of the targets is Lyndsey Scott a quarterback who led East Mississippi to the NJCAA title. He picked up an offer from Missouri on Tuesday and could delay his recruiting into January. Don't expect Beaty to rush out and sign a quarterback. The inside word is the staff will be picky when it comes to quarterback and won't sign one just to take one.
Look for an offensive lineman, a linebacker, and a defensive tackle as targets for January.