Beaty hopes team building continues to help build program
Monday was technically the first day of practice as the team got together for a short walk-through and then made their way to Clinton Lake.
That was day one, and Beaty started the team building with his players right away. They got to play games and do other things that challenged them.
"The chemistry yesterday was outstanding," Beaty said. "I've gotten so many comments from the people that helped us. KC Water sports help us. They brought some guys out to help on some things. It was really cool. I thank them for that. The reports I've gotten back from everybody that helped us that is not involved in our program, are things that make you feel like you are on the right track with the way you are treating the guys."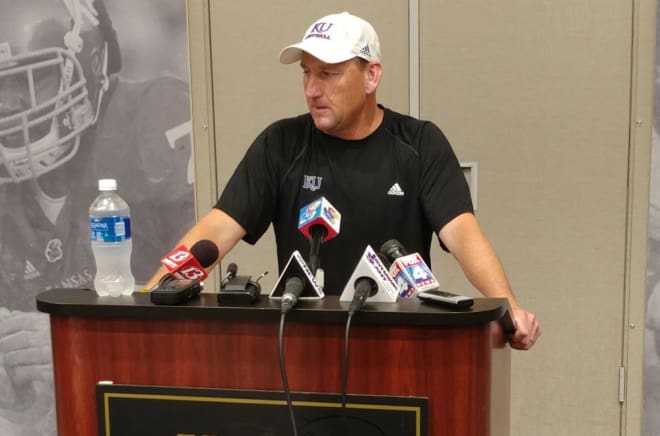 Beaty started the team building long before Monday. The early work began with his staff. He believes if his staff is on the same page then the players will follow. He got that advice from the first college coach he worked under at Rice, David Bailiff.
"It is extremely important to us and it starts with our staff," Beaty said. "It starts with a chemistry that we create amongst each other. We want to create an environment that promotes others first. That is an extremely important part of our personality and the same thing with our team. I believe when they see it carrying over with the coaches it is easier for the team to take on that personality. David Bailiff (Rice) always used to say a team is going to take on your personality."
There were a lot of events that occurred in the water and it impressed Beaty how some of the players caught on quickly. He used running back Octavius Matthews as an example.
"Our guys enjoyed it and I think it started camp off being positive," he said. "It really helped us. Our guys are athletic and we learned a lot about them at the team building event. We put them through some things that they had never done before. Some of them had never got in the water and they were able to get up on a surfboard."
Beaty joked how long it took him to learn to accomplish that feat.
"It took me a long time to get up on a surfboard," he said. "I think maybe the most impressive was Octavius Matthews. I don't think that kid has ever swam in his life and he got up the first time it was amazing. He is so athletic."
He hopes the team building that began with his staff and filters down to the players continues to pay off as he develops the program.
"That's one of the things we as a staff strive to do," Beaty added. "We enjoy being around one another and respect one another to telling each other the truth, and holding each other accountable. Football is a fun game and people don't see all of behind the scenes things."