Beaty liked what they did on bye-week, team in good health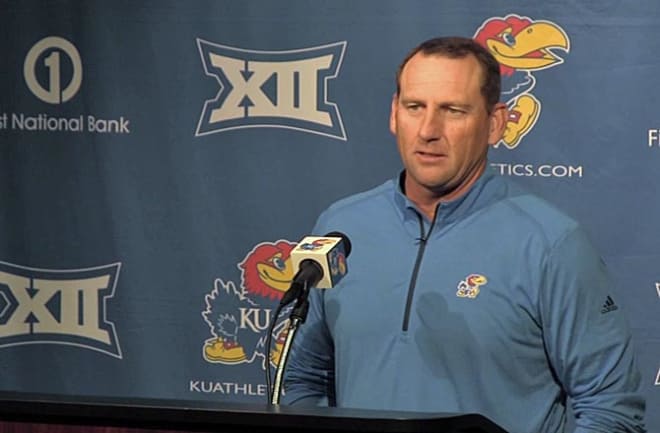 The Kansas secondary has been playing with new faces and a group that is looking to gain experience. This week things should get a lot better with the anticipated return of Shaq Richmond.
Richmond has been in the program for three years and played in seven games last year. He will be a welcome addition and the team should be healthy coming off a bye week.
"We haven't had his services since, so it was a main point to get him back on the field here, so we think we are going to have him back in that secondary force, which is good," Beaty said. "We got some depth back there now, which will be great. Last week was good for us, obviously you get a little time to heal up."
Jayhawks have already seen what Shimonek can do up close
The last meeting between Kansas and Texas Tech was interesting late in the third quarter. The Jayhawks trailed just 28-19 when they knocked starting quarterback Patrick Mahomes out of the game. Usually that would lead to a positive turn of events for the defense.
But Nic Shimonek entered and threw for four touchdown passes and the Red Raiders pulled away. The Kansas defense will see Shimonek one more time since Mahomes is now wearing a Kansas City Chiefs jersey.
"He was a very talented guy in high school, and I remember looking at him back in the day," Beaty said. "Quick-release guy. You can tell he's very cerebral, does a nice job of progressing through the offense. He looks like A-rated quarterback."
Quarterbacks in the Texas Tech system over the years have sometimes lacked mobility. Shimonek has caught Beaty;s attention with his ability to make plays with his feet.
"The thing that he does better than I wanted him to do was he moves around the pocket a lot better than I wanted him to do," Beaty said. "I didn't want him to be able to do that, but he can do that pretty good."
Defense has to mix up the looks and bring pressure
The Texas Tech defense has made big strides since last year. One of the areas they have improved is creating turnovers. This season they are plus seven in the take-away category and the Jayhawks will need to do some of that if they want to win on Saturday.
"I think you've got to put some pressure on the quarterback," Beaty said of the KU defense. "I think you've got to do a nice job of mixing coverages and making sure that you don't get caught just giving him a good look at your hand. If you give those guys a good look at your hand it could be a long day."
Front four used bye-week to improve pass rush
Going into the year the Kansas pass rush was expected to be an area of strength. Four game in the haven't created nearly the pass rush they hoped.
"It's obviously been something that we felt like was going to be a big advantage for us," Beaty said. "In terms of it being a disappointment, I think it's been disappointing for our players, for our coaches, our guys that are playing that position because they expect more out of themselves."
They used the open week to look at the defensive front and find out what they can do to improve and area that has a lot of talent and potential.
"The bye week really helped us to kind of understand is there anything the opponents that are doing to us that are taking away that rush," Beaty said. "The bottom line is there's some things that we see that we can utilize a little bit differently. There's also some technique things that come into play. Being able to make sure that we shore up those technique issues, that's going to make a big difference in the pass rush."