Competition at OL picking up in camp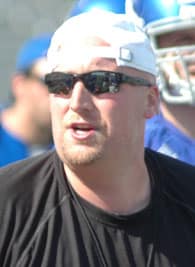 Last spring Zach Yenser had a limited group in terms of numbers on the offensive line. Through recruiting and the walk on program those numbers have improved for fall camp.
In the spring Yenser barely had enough linemen to form a two deep in practice.
"I remember when I took the job Likens told me 'now you know you have about seven guys on the roster right now,'" Yenser said. "Then they went out and signed three guys that were mid-year before I got here so the numbers have continued to grow. We knew the numbers were low when we took the job but these guys have done a heck of a job this summer and coming together in camp."
During practice Yenser will split the groups with players who appear to be in the two deep with the younger players. The second group will go with offensive GA Mario Jeberaeel to work so they get practice time and don't stand around.
"It's nice to have everybody back healthy and a couple guys back in from the spring," Yenser said. "The young guys that have gotten on campus have been getting a lot of reps in practice. I think they're getting between 30 and 40 reps on their own in team settings. They are getting thrown into the fire pretty quick."
Yenser likes the numbers and depth of his players especially compared to what he had in the spring.
"You'd like to have between 17 and 20 offensive lineman on your squad at any given time to have three full groups and other guys rotating in," he said. "So far in it has been really good."
Lot of players getting a chance at center
Yenser came to the Jayhawks after coaching the offensive line for two years at Cal. In his first year there they lost two starting centers and he had to scramble to find their replacements. Since that experience he has worked to have several players ready to play the center spot.
"When I lost the first and second center we had to do some shuffling," Yenser said. "I've always told myself from now on we are going to have different guys snapping the football so you are just thrown into the fire. On any given day we have seven guys snapping the ball before and after practice."
Yenser said Bragg is also working with the guards. He said they are cross-training a lot of offensive linemen. Peters and Banks have been running first team at guard.
The two deep at offensive tackle
Through recruiting the Jayhawks have added enough players to get back to practicing with a two deep at tackle. Yenser didn't have that luxury in the spring.
"
Jayson Rhodes
is rotating in with Larry at the right side," Yenser said. "
Devon Williams
and
Clyde McCauley
both are rotating at tackle. So that gives you five solid guys to get in there. Guys know playing offensive line you are going to have dings and bruises and people are going to get hurt. You are one play away from playing. That's the mentality they have to have."
Picking the starting unit
The players are judged every day through fall camp and there has already been changes on the internal depth chart.
"We're going to have depth chart changes and competition," Yenser said. "They get a grade every day. They get are run grade and a pass grade every day. They know that it is competition and there has already been some movement (depth chart) here and there. There is nothing set in stone."
The Jayhawks will hold their first scrimmage of the season on Saturday. The coaches will get a better idea of their position groups after that. For Yenser he wants to narrow his group down as school approaches.
"Going into that first week of school you'd like to have an idea of your top eight guys," Yenser said. "Once we start to prepare with the scout team you'd like to have an idea who your guys are."