Corione Harris picks Kansas, gives Jayhawks a true lock-down corner
When the Kansas coaches hosted their first junior day it was expected Corione Harris would be in Lawrence just looking around.
The odds were never high that he would give the Jayhawks a commitment.
But that didn't factor in the relationship Kansas assistant Tony Hull has built with several players in New Orleans. Hull, a former high school coach in New Orleans, has remained close to the area he once coached.
"I have known coach Hull since he coached at Warren Easton," Harris said. "He knew me back when I was playing little league football. He is an awesome man. He has a great personality and always wants what is the best for the kids. That has always stuck out to me and he treats me like he is a father."
So when asked if he planned on committing to Kansas before the visit, Harris responded, "no I didn't actually."
Once his unofficial visit came to an end he pulled a surprise to those that follow recruiting and gave the Kansas coaches his verbal commitment.
"Coach Beaty was really excited," Harris said. "Actually he screamed. Everybody around was excited. There were a lot of smiles and everybody was happy."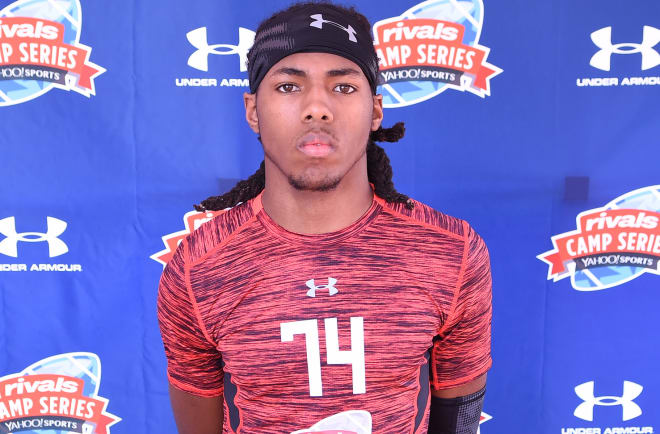 Harris spent a lot of time around the coaching staff and noticed how they interacted. He could have his pick of a lot schools around the country, but he liked the vibe he got from the Kansas coaches.
"The thing that stood out is how the coaching staff was united and it seemed like one family," he said. "They treat everyone like they are their own kids. I like the way they are into the academics and it felt like a family."
In the latest Rivals.com national rankings Harris comes in as the eight best cornerback. His offer list is loaded with schools like LSU, Auburn, Florida, Georgia, Mississippi, Oklahoma, and many more.
His ability to cover a portion of the field caught the Kansas coach's attention on game film.
"They said they liked my mentality and leadership," Harris said. "They said they like the fact that I can play man-to-man and they can open up the playbook more for the secondary. They can blitz safeties or linebackers or drop their defensive ends knowing that I don't need any help."
Committing to Kansas will also give Harris the chance to play with former Landry-Walker teammate Mike Lee.
"With Mike and me reuniting in the secondary it will be big for Kansas in the future," Harris said.