Daniel Parker believes Beaty has Kansas on right track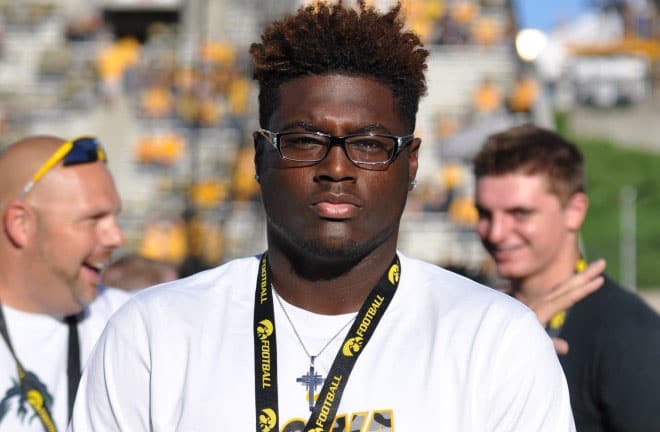 The Kansas Jayhawks hosted their first Junior Day of 2018 on Saturday, and a number of prospects from the Kansas City area made the trip to Lawrence to meet head coach David Beaty and his staff. Three-star Blue Springs (MO) defensive end Daniel Parker was among them, and he was impressed with what he saw at KU.
"It was a fun experience," Parker said of his visit. "Got to see the new locker room. I liked it a lot. Showed some new stuff I haven't seen before"
The 6-foot-4, 245-pound junior is ranked as the No. 9 prospect in the Show Me State for 2018. He has an offer from the Jayhawks, as well as six other Division I programs, including Iowa, Missouri, and Nebraska. Parker committed to the Tigers last summer before reopening his recruitment in September.
"I talked to Coach Beaty ," Parker said of his time with the Kansas staff. "He basically told me that, if I came to Kansas, I would be apart of something that is being built. That the feeling of you knowing you helped build a program back on its feet is a lot better then going to one and just maintaining the current position it's at."
After his visit to Lawrence, the 2018 prospect said he believes in what Beaty and his staff are doing to turn the Jayhawks around.
"I feel like they are telling the truth," he continued. "About how the Kansas University football program will be something special in the near future, I've seen some four-stars commit here and there, so they aren't lying. But I have a lot of time left to make a decision."
Parker is considering all of the programs that have offered him, but he has no other visits scheduled at this time. He does know what he's looking for as he continues through the recruiting process.
"How much they communicate with me and my family about things besides football," Parker said of his suitors. "If they are looking to build a family with me, and a strong relationship. And if they really care about my academics, or if they are just selling me it to get the commitment."