Defensive line looking for new start after bye-week
If you threw out a quiz question to KU football fans what player leads the team in sacks the answer would surprise most.
The answer…it is a three-way tie between Daniel Wise, J.J. Holmes, and Joe Dineen. They all have been credited with one sack each.
Last year Dorance Armstrong recorded two sacks himself against Texas Tech, which is two more sacks that he has this season. Teams have game-planned for the Big 12 Pre-season Defensive Player of the Year.
"Yeah, it has been very frustrating," Armstrong said.
Part of the reason has been the double-teams thrown at him. What doesn't show in the stat book is how many times Armstrong has come so close to wrapping up the quarterback.
Coming off the bye-week Armstrong is ready to put the last four games behind him and prepare for Texas Tech quarterback Nic Shimonek who gets rid of the ball fast.
"I just need to go out there and be me," Armstrong said. "Lately I haven't done that. I had a good week of practice and I am ready to get after it."
But it isn't all on Armstrong to make plays. Opposing offensive coordinators have also focused on Wise and the defensive end position opposite Armstrong hasn't created much pressure.
"You are supposed to win one on one battles," Armstrong said. "I don't win all of mine but we all need to do a better job."
It is going to take a big effort from everyone on the defensive line. Wise said he has seen good things from other players who can help.
"It is big for everybody to step up and play their role," Wise said. "Jacky Dezir is stepping up and making plays. He is becoming a good guy in the middle. JJ Holmes has also stepped up."
Part of the pass rush can also be aided by the defensive scheme. Whether it is blitzing linebackers or changing up the defensive alignment Kansas defensive coordinator has dialed up different looks.
Against West Virginia the Jayhawks started off in a three-man front with Armstrong creeping up from a linebacker position. It allowed Armstrong to get one-on-one, match-ups with the guards of West Virginia.
"The advantage of it is you have the speed going forward and they are popping straight up," Armstrong said. "You should have the advantage as the pass-rusher."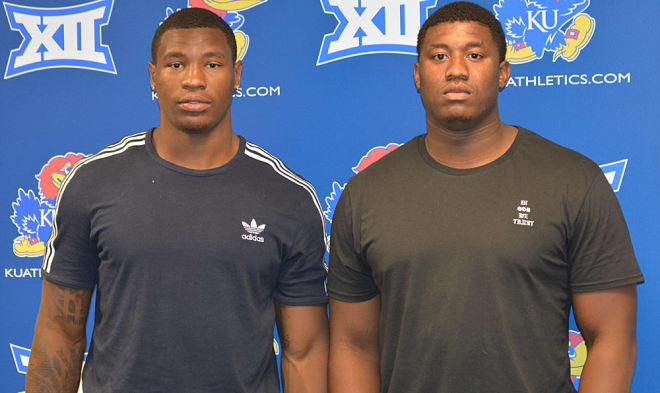 In the second half of the West Virginia game Bowen switched back to the four-man front. Armstrong said his best chances to get a sack and pressure the quarterback came with the three-man look.

"It gets me against the guard," Armstrong said. "I can move left or right and they don't know where I'm going to end up. That is the plan. Against West Virginia I definitely got better chances out of the three-man front."
The Kansas front four had a strong showing against Texas Tech last year. The Red Raiders use wide offensive splits and an up-tempo offense.
"They try to spread you out with those splits," he said. "They will try to run us around get us tired. That won't be a problem for us because I think we're in good shape."
It is difficult to make wholesale changes during the season, but the bye-week gave the defensive players a chance to work on several areas.
"It was a productive bye week," Wise said. "We got a lot of things done and focused on certain things. We changed some things and hopefully that will make a difference."