Dineen says picking Kansas is a dream come true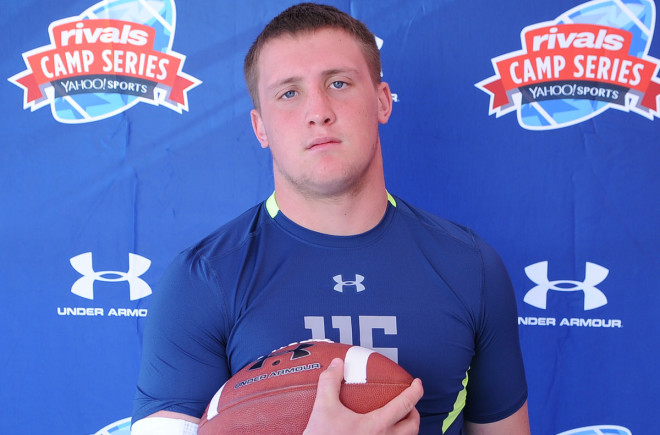 Around a month has gone by since Lawrence Free State linebacker Jay Dineen picked up an offer from Kansas. He didn't let too much time pass before he was ready to make the call to be a Jayhawk.

"I just got off the phone with coach Beaty," Dineen said. "He was fired up. He told me to be ready to come in and play. He told me I will be a big part of the turnaround with Kansas football."
Just 24 hours ago Dineen was competing in the Rivals Camp in Kansas City. Playing at Kansas will give him a chance to re-unite once again with his brother, Joe, who is a starting linebacker.
"I always felt I would be a Jayhawk," Dineen said. "I grew up rooting for them. I believe coach Beaty will turn the program around and it will also give me a chance to play with Joe."
Right after Dineen spoke with Beaty he called defensive coordinator Clint Bowen, who was the lead recruiter for him. Bowen has known the Dineen family for a long time and that helped in the recruiting process. Dineen said he also told his brother Joe that he was committing to Kansas.
"He was excited," Dineen said of Bowen. "Everybody was excited. I'm very excited about it and so was my family. I had a chance to talk to my brother and he felt the same way."
It is hard for Kansas to turn down a recruit who grew up wanting to play for the Jayhawks. That's exactly what they got in Jay Dineen.
"They saw something in me and believe I can come in in help change the program," he said. "I believe coach Beaty can turn it around. I'm excited. It is a relief. I had a feeling this would happen and this is a dream come true."
After getting an offer from Kansas Dineen said interest picked up from Kansas State, Iowa State, and Northern Illinois. Dineen is the Jayhawks first in-state commit for the 2016 season.