Five-star big man in Lawrence for weekend visit
Silvio De Sousa, the 6-foot-9, 220-pound power forward from IMG Academy in Bradenton, Fla., is one of the nation's top prospects in the 2018 class.
De Sousa, the No. 18 ranked player in the class, is currently being recruited by the likes of Kansas, Kentucky, Florida, Illinois, Louisville, Maryland, North Carolina, Syracuse and others.
This weekend, De Sousa, a five-star prospect, is in Lawrence for a visit. For the very latest, click here.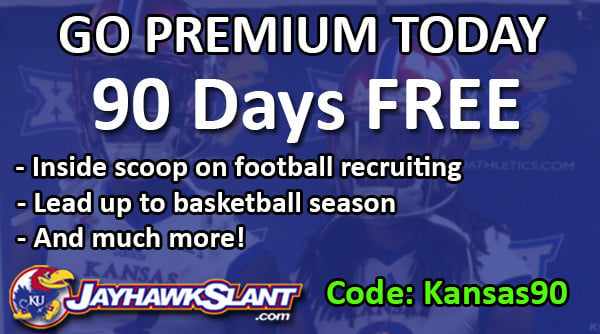 You can now join Jayhawk Slant for 90 days FREE on the house! The offer is good through August 31, 2017.
Leading into basketball season you can follow the Jayhawks recruiting in basketball and football. You will get team coverage, analysis, video, photo galleries, and behind-the-scenes recruiting info.
You also get full access to the premium message boards to discuss Jayhawk sports with thousands of KU-only fans.
The Jayhawks will kick off the football season the first week of September and official visitors will start arriving around the same time. You can follow all of the news.
It is easy to sign up. All you have to do is pick if you are a returning/registered user or new user.
Please use the CODE: KANSAS90
RETURNING/REGISTERED USER SIGN UP:
If you are a past member or have registered for a user name you can sign up by going HERE
Remember use the code: KANSAS90
NEW USERS SIGN UP:
If you are a new user and don't have a user name you can sign up by going HERE
Remember use the code: KANSAS90