Five-star RJ Hampton explains his shocking decision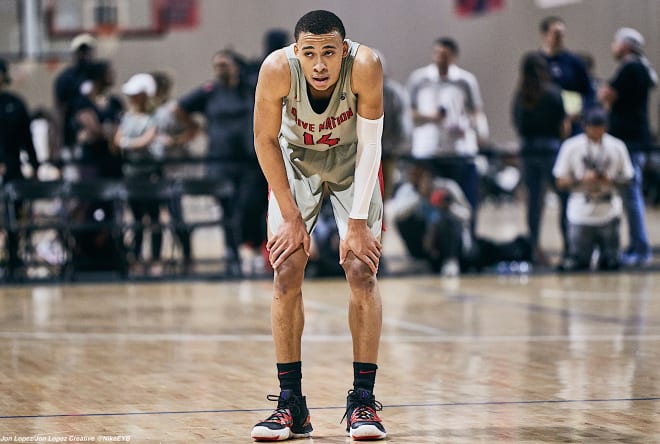 Many assumed RJ Hampton would commit to Kansas, Memphis or Texas Tech on Tuesday but instead, the five-star guard forfeited his college eligibility. He will not be on American soil this fall. Hampton has signed a one-year contract with the New Zealand Breakers of the National Basketball League.
Hampton discussed his decision to forgo college and spend this season abroad before entering his name into the 2020 NBA Draft.
"I feel like this was the best opportunity for me to get ready for the NBA as quickly as possible because that is my ultimate goal," he told Rivals.com. "I think that it is a safer route for players to go instead of going to college, in my opinion."
How Hampton will navigate the next 12 months will be watched closely, though he feels as if he has the proper mindset that will equate to success for both the short- and long-term.
"I expect to get a whole pro experience without being in the NBA," he said. "I want to live like a pro, play and prepare myself like one, too."
The New Zealand Breakers are coached by former Georgetown star Kevin Braswell and have already won the NBL title four times during their 16 years. However, the franchise is coming off of a 12-16 campaign and finished in sixth place of eight teams. Its most recent stars include former Louisiana-Lafayette standout Shawn Long and Notre Dame's Tom Abercrombie.
Terrance Ferguson and Brian Bowen are among former high school stars who played a season in the NBL before entering the NBA Draft.
Hampton will head to New Zealand at the beginning of September and is expected to sign a shoe deal, opening up another revenue steam not allowed in college.
He will return to the United States by mid-March. From there, preparations for the NBA Draft will begin. Hampton, the No. 6 prospect in the 2019 class, will likely be among the lottery selections and compete with Cole Anthony, Anthony Edwards and Theo Maledon for top guard honors next June.

Now that Hampton will not be attending college, it is a difficult pill to swallow for his three finalists. Kansas was the perceived favorite and will now have to get by with Devon Dotson -- assuming he doesn't stay in the NBA Draft -- and a slew of its complementary pieces in the backcourt. Memphis will hope that its top-rated class lives up to its billing, while Texas Tech will rely on five-star Jahmius Ramsey and a handful of transfers and freshmen.