Hampton believes he can be a factor for Jayhawks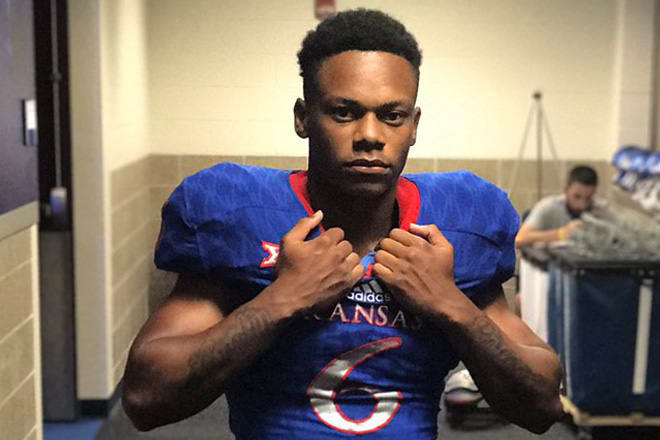 Quan Hampton made his official visit to Kansas in January, committing to the Jayhawks before he left Mount Oread. The three-star wide receiver from Texarkana (TX) offered rave reviews of the renovations to the Anderson Family Football Complex, and about his connection with David Beaty's coaching staff. Just days before reporting to campus, the 5-foot-8, 170-pound freshman was ready for the start of his college career.
"Moving to KU will be a big change for me," Hampton said of his arrival in Lawrence. "Obviously, with the distance between home and KU, I will be on my own most of the time. I think integrating myself into the football team, and the overall activity of life at KU, will be what I look forward to most with this new beginning ahead of me."
After leading the Tigers with 71 receptions for 1,299 yards and 10 touchdowns in 2016, Hampton was an All-District selection for the second-straight year, and earned an Honorable Mention to the Associated Press Class 5 All-State squad. After averaging more than 18-yards per catch, the Texas product knows he will have to take his training to another level to be ready to compete in the Big 12 Conference.
"In the spring I mostly working on gaining strength and speed," he said of his workouts. "I've been training at a higher level since I'll be competing against tougher competition. Speed and explosiveness is what's going to be my advantage, so I've been making sure that I maintain and improve my game where it needs strengthen."
"I was given a workout by the coaches that really hit hard on agility, lower body explosiveness, and technique on the line. I've been hitting it hard at my home gym every single day, in preparation for what is to come."
With a reported 40-inch vertical leap, Hampton regularly beat defenders for jump balls, despite being just 5-foot-8. As a senior, he consistently demonstrated the ability to use his speed and impressive change of direction to separate from defenders. Having focused on further developing those skills since National Signing Day, Hampton believes he's ready to compete with a deep group of receivers at KU.
Hampton is one of the newcomers drawing rave reviews from the coaching staff so far in fall camp.
"Coach (Garrett) Riley and I were in touch a lot through the spring," he said of the Jayhawks quarterbacks coach and his lead recruiter. "They've just been drilling me making sure that I'm looking over the formations and plays. They expect me to be able to get in and fill a job if it needs to be done. I was given a specific position to study, which I will have a shot at once we get in action."
"Any athlete will tell you, they play to play the game," Hampton continued. "That's what I intend to do. While it's tough for a true freshman to make in impact instantly, I plan on being that guy."