Jayahwks set to add Jelani Brown to 2018 class
The Kansas coaches kept a spot or two open in case they found a recruit that came along late. One of those spots is going to Jelani Brown.
The defensive tackle from College of San Mateo took an official visit to Lawrence this weekend and came away believing that will be his future home.
"I think it will be a good fit for me and I like their defensive scheme," Brown said. "I liked their coaches. They were very welcoming I really liked being with them and on campus and then their academics are really good. I want to get a degree so why not get it from one of the best schools."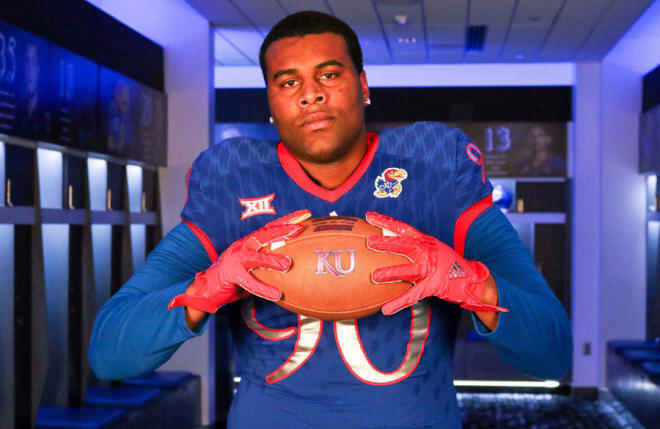 Back in January Brown thought he had a path set to get to the division one level. He was supposed to take a visit to Oregon State and planned to sign after that. But late in the process Oregon State was no longer an option.
Kansas defensive line coach Jesse Williams saw Brown in January at San Mateo. Williams showed heavy interest in Brown until he found out he was planning on going to Oregon State.
Once Williams found out Brown didn't sign he was quick to start up the recruiting relationship again.
"I met Coach Williams for the first time in January," he said. "At that time I had plans to go somewhere. They came back on me after they found out I didn't sign at Oregon State. Then I set up the visit to Kansas. He told me he likes how strong my hands are and my pass rush."
At 6-foot-2, 293 pounds Brown received some late interest. Even though signing day was over he picked up offers after the fact from Kansas, Arkansas, State, Louisiana-Lafayette, and Texas State.
He also had a special connection to Kansas in former teammate Miles Kendrick. Kendrick signed with the Jayhawks in January and is already on campus.
"He told me he loves it there," Brown said. "Since he got there has already put on close to 20 pounds. He told me it is a great opportunity to come in and do some things."
Brown will sign with the Jayhawks and finish up the spring semester. He plans to be on campus in June to start working out with the team. It also ends speculation on what path he would take to his next college home.
"It is an amazing feeling," he said. "I thought I had a place to sign and then everything was stressful. I was stressed on what I was going to do next year. I'm blessed to be able to attend the University of Kansas."