Jayhawks land all-region DT in J.J. Holmes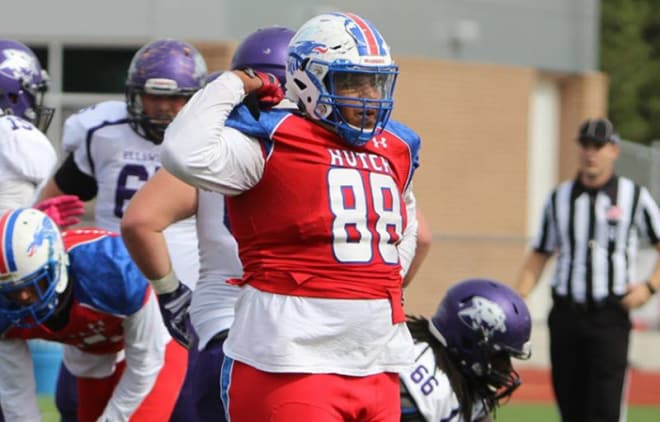 J.J. Holmes didn't plan on making a commitment on his birthday. On Tuesday the Hutchinson Community College defensive tackle gave the Jayhawks a verbal commitment.
"I didn't plan to commit on my birthday it just happened that way," Holmes said.
The 6-foot-2, 310 pound Holmes called Kansas assistant Kenny Perry and head coach David Beaty to tell them of his intentions. Holmes will take an official visit this weekend to Lawrence.
"Coach Perry has been recruiting me for a while," Holmes said. "He's been doing a good job telling me about Kansas. He has talked to me about the facilities and the environment."
Not long ago Holmes took an unofficial visit to Kansas where he was able to see some of the facilities and the new locker room.
"They were very nice," he said.
Holmes returned to Hutchinson for his sophomore year after getting several offers last season. He had offers from Kansas State, Colorado State, South Florida, Iowa State, Missouri, Kentucky and several others.
He visited Missouri last weekend. He also had offers from South Florida and Syracuse for the 2017 recruiting season. He recorded 44 tackles and nine sacks from his defensive tackle spot.
"The KU coaches told me they like how I can rush the quarterback and how aggressive I am," Holmes said.
Holmes will graduate this semester and plans to sign with Kansas next week. He will be at Kansas in January and go through spring football.
"I'm looking forward to my official visit and being around the coaches and players," he said. "It is good not having as much stress."
Holmes was a first team all-region and all-conference selection at defensive tackle.