Jayhawks land commitment from Clay Cundiff, the state's top TE
When the summer started for Clay Cundiff he wanted to see what other colleges had to offer. He got his first Power Five offer from Kansas and wanted something to compare the Jayhawks to.
Cundiff, an all-state prospect from Bishop Carroll, took visits to Arizona State and Iowa State. And it was good news for the Jayhawks because that helped them out in the process.
"This summer I've been to Arizona State and Iowa State," Cundiff said. "It's good to go out and see a bunch of schools like that. But the thing was they have something going on at Kansas. This is something special. I feel like the coaches really care about you, and they really do."
After getting back from unofficial visits Cundiff said he sat down with his parents over the last week and talked about things. On Tuesday afternoon he called Kansas head coach David Beaty and gave him a verbal commitment.
"It just felt like home ever since the first time I went (to Kansas)," Cundiff said. "This past week as I sat down with my family, and I was like, I'm going to do it. I should have done it a while ago but it was good to see all the other schools but I'm super excited."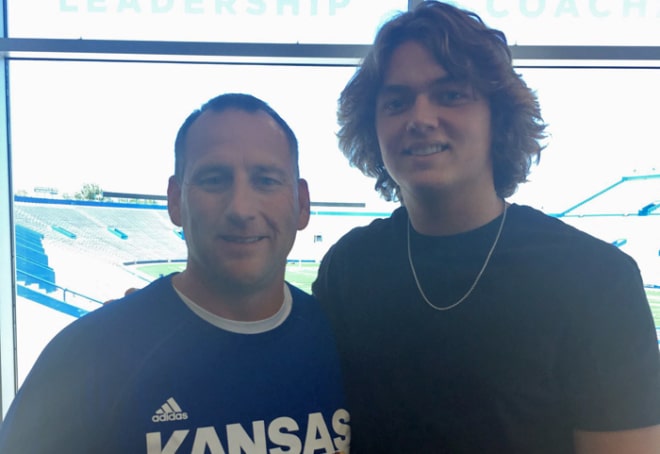 One of the aspects that sold Cundiff was the close-knit program he saw during his visits.
"Some kids get caught up in the big time schools but there's more to it than football," he said. "I like to have coaches that are always there for you and have that family atmosphere. Seeing that at Kansas and not at some of the other places really kind of opened my eyes and made me realize how special it is."
Cundiff has made the trip to Lawrence several times including games, junior days, and other events. Recruiting coordinator Kenny Perry developed a good relationship with Cundiff right away.
"Coach Perry was a big-time communicator with me and I always text him," Cundiff said. "He's been there since the beginning and the first time I was up there. I remember him saying, I want you to text me every week and keep me updated. And I was like, I will. He's been great. I've talked to coach Riley the tight ends coach and a bunch of the assistant coaches. Mainly Coach Perry was my big connection."
Last year Cundiff helped Bishop Carroll defeat St. Thomas Aquinas in the state title game. Making an early decision can also help him focus on his senior season and trying to win another one.
"It feels amazing," he said about committing. "I mean, it's kind of like a weight lifted off my shoulders and you don't have to be dealing with all the coaches and recruiting. I can just talk with the KU coaches. It feels good to do it before my senior year so I can focus with my team and get our minds focused and get ready to win another state title."
Cundiff, a three-star recruit, is the top rated tight end in Kansas. The Jayhawk coaches liked his combination of speed and strength, which earned him an early offer from the staff.
"The main thing they like is my physicality and how physical I am and that I like to hit," he said. "When I'm putting my hand in the dirt I'll go after you. And another thing they said they were surprised by my speed for how big I am. I think those are the two main things that they see along with my ability to catch the ball in traffic."