Jayhawks land in-state lineman Mac Copeland
Mac Copeland knew it was right.
The Wichita (KS) Collegiate offensive tackle committed to Kansas Monday night, just over a week after landing his first Division I offer from the Jayhawks. Despite being more than eight months away from National Signing Day, the 2018 prospect was excited about putting an early end to his recruitment.
"I did not know how quickly this would all happen," Copeland said of the offer from KU and his subsequent decision. "I committed as soon as I had the opportunity. It's an amazing opportunity, and I look forward to becoming part of the Jayhawk community."
The 6-foot-5, 250-pound junior plays both offensive and defensive line for the Spartans, Copeland was an honorable mention to the Class 4A Division II All-State squad. After seeing him in action at the Spring Game, the athletic tackle is excited to work with Kansas OL coach Zach Yenser.
"He's a really great guy," Copeland said of the Jayhawks assistant. "Seeing him work with the other guys, he's a very vibrant guy. I think he's a really great coach. I like him a lot. Seeing all that for the first time, it made me see a different side of him I hadn't seen before, and how he can relate to young people too."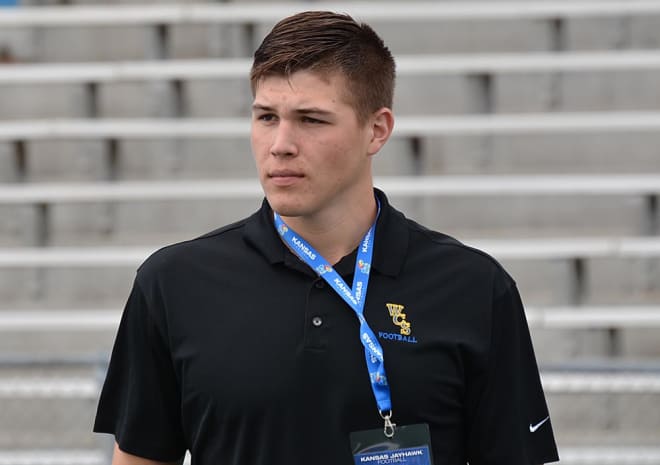 The Spring Game was Copeland's second visit to Mount Oread in 2017. He made the trip to Lawrence in January for the Jayhawks first Junior Day, and came away impressed with David Beaty.
"I think he's one of the greatest coaches I've ever talked to," Copeland said of the third-year head coach. "He's very down to earth with you. He just has that personality about him, that vibe about him that makes you relate to him."
"He probably spent two hours talking to me in his office," he continued about his first visit to the Anderson Family Football Complex. "I would never, ever think a college football coach of a Division I school would ever talk to an athlete for that long of a time. That shows he really wants you on that team, and it really means a lot to me. I don't know any other coach that would do that. He's the only one."
With his commitment to KU, Copeland may have spurred a new sibling rivalry. Mac's brother, Mitch, is a sophomore defensive tackle at Kansas State, and is the second of two boys to play for the Wildcats. Asked about their reaction to him choosing the Jayhawks, Mac said there wasn't any division among the Copeland men.
"Both of my brothers have been very supportive of my decision to be a Jayhawk," Mac said of his family. "There isn't any bad blood. Even though they are both rivals, I have a lot of respect for the Cats."
Copeland is happy to have his decision out of the way, and know where he is headed after graduation. He believes in Beaty's vision for the Kansas program, and he's excited to be a part of it.
"Going up there and really seeing the program throughout, it showed me how great the program can be," he said of his time in Lawrence. "I think they are really going to make it happen. I really like the atmosphere at KU right now. There are a lot of young people around. They like the new music, the new coaches. Kind of out with the old, in with the new. I think it's a really great opportunity."