Kansas Football SC Part 1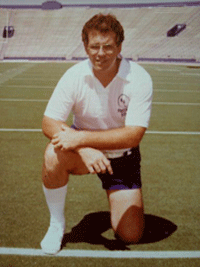 Every year without fail, when a player is asked about the offseason strength and conditioning program they will answer that this season … unquestionably … without a doubt … is the hardest they have ever worked.
I never exactly knew what that meant. Did they lift more weights that offseason? Was the intensity higher? Then when I really started to think about it, even if they had told me how often they worked out and what lifts they did, I really had no idea how that compared to previous eras. The more I started looking back, up until about ten years ago there wasn't a lot written about KU's strength and conditioning program. During the 1970's and 1980's, the fans and media didn't know much about what the team was doing during the 75% of the year that they weren't in season.
Of course, things are a lot different now. Most fans who seriously follow KU football have some idea who the strength coach is. It's not surprising that current strength and conditioning coach Scott Holsopple, who has only been with the program for six months, already has more than 1,000 followers on Twitter. There is a lot more glamour and prestige to the job then there was 20 years ago.
Kansas will soon begin summer workouts. To really put it all in perspective and see how sophisticated the program is today, we are going to look at how the program has evolved through the years. Today, we are going to focus on the creation of the program in the late 1970's.
Strength and Conditioning through the 1970's
To start, we have to go back to the origins of organized strength and training programs in college football. In 1969, Nebraska needed a little boost. The year before Kansas had one of the best teams in the conference and would appear in the Orange Bowl while Nebraska finished a disappointing 6-4 season.
To give themselves an edge, Nebraska hired Boyd Epley to become the first full time, paid, strength and conditioning coach. It was a big risk. The prevailing thought at that time was that if a player had thicker muscle tissue he would lose his quickness and be less effective. Nebraska coach Bob Devaney looked Epley in the eye after the strength coach was hired and gave him some encouraging words.
"If anyone gets slower you're fired."
Of course , Nebraska immediately saw the results of having a full time strength coach. Nebraska coaches would heavily credit the strength program for their 1971 National Championship. As historian John Lukacks wrote for ESPN, Epley's work at Nebraska forced other schools to change the way they thought about strength and conditioning.
"He pioneered training techniques and lifts; developed exercises, equipment and evaluation tests; organized strength coaches; and, in doing so, literally lifted strength and conditioning -- and all those who followed in his footsteps -- out of the shadows and into the year-round spotlight that is the millennial, media-saturated, modern incarnation of college football."
While Kansas wouldn't build a dedicated strength and condoning program until almost a decade later they still attempted to make a small step. The Parrott Center was built next to Allen Fieldhouse in 1970 and was the football team's first real weight room. Before the Parrott Center the players would lift in a small caged off area in the upper level of Allen Fieldhouse.
Although players at the time could argue that it wasn't much of an improvement. It was roughly the size of a five car garage. At that point, there were three bench presses, two deadlift stations and several sets of dumbbells.
During Don Fambrough's first stint at Kansas in the early to mid 1970's, Kansas didn't show much desire to change how they ran their offseason workouts. As was the case with most schools, the assistant coaches were in charge of strength and conditioning. During winter conditioning, the players would spend an hour several times a week at Parrott working with free weights. The other portion of the week was spent doing circuit training in the concourses of Allen Fieldhouse where the old indoor track was located.
The circuits could be anything from pushup stations to a station where the players would wrestle each other - which wasn't a favorite drill for the quarterbacks.
"I thought it was the stupidest thing I had ever heard of," former quarterback David Jaynes remembers. "I mean what are you accomplishing by wrestling with some guy? Back in those days we were doing things that had nothing to do with on the field and I thought it was pointless."
By 1975 when Bud Moore took over as head coach, more Division I universities were beginning to look into having a strength and conditioning program as a result of Nebraska's success. At Kansas, the biggest proponent of the idea was legendary trainer Dean Nesmith, who wanted one in hopes that it would cut down on the number of injuries. At the time, Kansas didn't have the financial resources to invest in a program. Moore would let the graduate assistants handle the offseason workouts while the assistant coaches were on the recruiting trail.
By spring of 1978, three Big 8 Conference schools: Nebraska, Oklahoma, and Kansas State had full time strength coaches and there was a rush around the conference to build functional and more spacious weight rooms. Thanks to interim athletic director Jerry Waugh, Kansas made the decision in late spring of '78 to hire a football strength coach. In early June, Waugh would fly University of Florida strength coach Ron Hubbard up to Lawrence to talk about the position opening, but they still had one giant problem.
"They didn't know how they were going to pay for this thing," Hubbard said.
Waugh, Nesmith and Moore eventually figured out how to make it work. The strength coach wouldn't be just a strength coach. In 1978 the coach who had that job would spend 50% of his time as the strength and conditioning coach, 25% of the time as the west coast recruiting coordinator and handling player skill evaluations, and the other 25% as the administrative assistant for the football program. The strength coach would also be the team's nutritionist and meal planner as well. Today, Kansas has roughly five full time people that cover all the job duties the strength and conditioning coach was required to do in 1978. In July of 1978 they offered Ron Hubbard $15,000 for the position and he accepted. He would be KU's first strength coach.
Hubbard would run into some immediate challenges. Since Kansas hired him so late in the summer, he had just three weeks to build a program and equip an extremely small weight room. At Florida he was working in a weight room that was at least four times larger than the Parrott Center.
He quickly bought weight lifting machines that you would see in a rehab facility and total fitness health center and had them immediately installed to accommodate the lack of workout space in Parrott.
Hubbard devised an in-season circuit training schedule where the offense would lift Mondays and Wednesdays and the defense on Tuesdays and Thursdays. Players would lift for 20 seconds on a machine and then Hubbard would blow a whistle and they would have 60 seconds rest between sets. They would lift 80 percent of their one time maxiumum lift.
If a player wanted to use free weights only, he would have to make an appointment during the class day to come in to work with Hubbard. Generally, only the older players made appointments to use free weights because of the acquired skill on the equipment and lack of space available.
"Even back then there was a better way to do things but we didn't have the facility, the program in place, or enough money to do anything measureable." Hubbard said. "It takes about two offseasons for players to understand and acquire the right techniques of lifting free weights. We didn't have the space and we didn't have the money, so most everything was done by machines during the 1978 season."
Hubbard's eventual goal was to renovate the weight room at Memorial Stadium - only the track team was using that weight room at the time - and expand it by ten times so every sport could have a functioning weight room. Hubbard hoped that with time, better facilities and equipment he would eventually shift the program so the players would spend 80% of their time on free weights and 20% on machines.
"Basically it was the same type of program that Boyd Epley had at Nebraska," Hubbard said.
Hubbard would never get the chance to implement his plan. The team would finish 1-10 in '78 and Moore would be fired before the last game of the year at Kansas State.
Hubbard would be fired along with the rest of the football staff but was temporarily retained by incoming Coach Don Fambrough through the strong recommendation of John Hadl, who had been retained and elevated to Assistant Head Coach and Offensive Co-ordinator.
Hubbard left Kansas shortly after in January 1979 to serve as offensive tackle and tight end coach as well as football program strength coach at Colorado under former Oklahoma and New England Patriots head coach, Chuck Fairbanks. Fairbanks bolted to the USFL New Jersey Generals three years later and left his coaches at Colorado high and dry.
Since Fairbanks left in early July 1982, it was virtually impossible for the assistants to land at other schools for the '82 football season. Hubbard decided to get out of coaching for a more stable life. He is currently the Associate Dean for Corporate, Foundation and Government Relations at the University of Southern California, Dornsife College of Liberal Arts and Sciences in Los Angeles.
Keith Kephart
In 1979 when Fambrough returned for his second stint as the head coach at Kansas, the program immediately began looking for their next strength coach. The athletic director at the time was Bob Marcum and he recommended Keith Kephart who was the strength coach at Northern Iowa. Marcum had worked with Kephart when the two were at Iowa State years earlier and shortly after hired him at Kansas.
In addition to the hiring of Kephart, Kansas decided to beef up their strength and conditioning budget. The previous year they had only allowed $10,000 to buy new equipment, in '79 Kephart received $70,000 to upgrade Parrott. Kephart, who had talked with Hubbard about the newly created strength and conditioning program, knew the challenges that he faced.
He would use the money to buy new free weights as well as convert one of the racquetball courts next to it into extra weight lifting space. They also built an office for Kephart with a window so he could watch the players lift. This brought the size of the room from 1,000 to 1,500 square feet. This still paled in comparison to Nebraska's 4,000 square foot weight room.
Kephart's overall strength training philosophy was to thicken muscle mass and to build a solid strength base to prevent injuries through free weights. During winter conditioning, the players would lift six days a week from Monday to Saturday. They would lift in three day cycles where each of the three days they would work on a different muscle group. During the season, lifting was restricted to Sunday through Wednesday.
Kephart was also the first coach at Kansas to incorporate different strength phases into the winter conditioning program. For example, the first four weeks of the winter conditioning program the players would do sets of 10 then decrease to sets of 5 to 6 for the next four weeks. He also was a big believer in pyramid training where a player might be doing a set of 10, then decrease the weight by 10 or 20 pounds depending on if it was an upper body or lower body workout.
"Kephart was really the pioneer in Kansas strength and conditioning," former player David Lawrence said. "He took pride in it and he competed with us and would challenge us. He had a couple of grad assistants and we thought, 'Man we have a whole strength staff.' We thought that was big time."
For speed workouts, Kephart would use the indoor track at the Fieldhouse. While players remember the speed workouts during winter conditioning to be challenging, the toughest workout was during the season when Kephart would make the players run 220's around the track on Sundays after games.When they returned in August, he would conduct a speed test. For the running backs, wide receivers, and defensive backs, they would have to run 800 meters under 2:45, rest 60 seconds then run 400 meters under 1:03.
"We were really soft when Fambrough got there and we had that losing mentality so part of Kephart's job was to toughen us up," former defensive back Ray Evans said. "We weren't used to it so guys would just peel off the track and throw up time to time."
Summer conditioning still wasn't a top priority because only 10-20 players would stay in Lawrence over the summer. Kephart would give every player a 90 day workout program. When they returned in August, he would conduct a speed test.
"If you didn't pass it not only did the coaches not think you were in shape and you were in the doghouse, then you had to show up at 5 in the morning and run them again," Evans said.
In Kephart's first season in 1979, Kansas significantly decreased their number of injuries and Fambrough credited Kephart's program as the main reason. By 1981 season when Kansas went 8-4 and had their best season since the Orange Bowl year in '68, schools around the country were noticing the work that Kephart was doing at Kansas. Although there was one man who wanted him the most.
Bob Marcum had just left Kansas to take the athletic director position at South Carolina and started recruiting Kephart. He created a new position for him as the Director of Recruiting and Support Personnel. In addition to leading the charge in recruiting, Kephart would still be the strength coach. Kephart would meet with the new Kansas athletic director Jim Lessig, but ultimately he decided South Carolina would be a better career move.
"These jobs will enable me to broaden my base," Kephart told the Lawrence Journal World at the time. "Down the road I will have the opportunity to go more into the administrative level."
A state and federal probe would take action the following month. In 1989, several coaches including Kephart were targeted. Kephart, who was the strength coach at Texas A&M at this point would resign. Kephart would be charged with conspiring with "other members of the USC athletic community" to bring steroids into the state and dispense them without prescription. Kephart would be sentenced to three months in a halfway house and three years of probation. He would never coach at the college level again. He would spend the rest of his career working as a personal trainer in South Carolina.
Still, despite his downfall almost universally players speak positively of Kephart's time at Kansas. There isn't any evidence that Kephart was involved in any similar operation while in Lawrence.
"I am not going to say steroid use didn't exist, but he didn't push steroids on people," Lawrence said.
While we will get into the rest of the 1980's in a later article, it was clear how much the strength and conditioning program had an impact on the team even in its beginning stages.