Kansas gets a commitment from Ferguson, who is rare find at the juco level
The Jayhawks have landed their top two safeties on the board and they are teammates at Hartnell College. Earlier in the day the news broke Jeremiah McCullough picked Kansas and now his friend in the defensive backfield will join him.
Davon Ferguson gave the Kansas staff his commitment two weeks before he plans to take an official visit.
"It was a decision I came to and knew I needed to make early," Ferguson said. "I know how spots fill up fast. I feel it (Kansas) is a nice organization to be a part of. I talked with my parents and got them on board and I told them I felt like it was a place I could play right away. And I feel like Kansas is a place where I could prosper later on in life."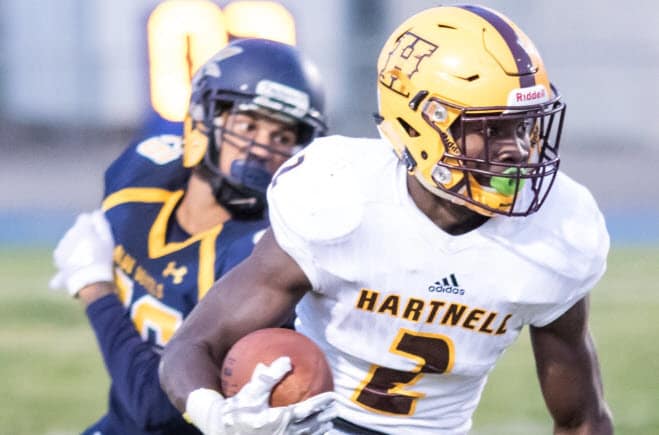 Ferguson is a rare find at the junior college level. Coming out of high school he had a 3.5 GPA, 980 on the SAT and was a full qualifier. He didn't play football as a junior and that set him back with college recruiters. Rutgers and Boston College showed interest and they were the only ones along with some division two schools.
"I really wasn't recruited out of high school because I didn't play my junior year," he said. "So I went to junior college and set my sights on leaving at mid-year. I was blessed with the opportunity to receive scholarship offers. Now I will get out and go division one in December."
[Related: Ferguson's teammate commits to KU]
The Kansas coaches led by defensive line coach Jesse Williams found Ferguson. They evaluated his film and offered after watching him.
"Coach Williams had a loud outburst when I committed," Ferguson said. "I could tell he was happy and he was glad I committed. I'm just so happy to be a part of the family."
This season as a 17-year old freshman he was voted first-team all-conference and also led the conference and region in punt returns. He also played some wide receiver but his future in on defense.
"I feel I can play anywhere," Ferguson said. "I have played corner or in in the box safety. Coach Bowen said I have the instincts that you can't really teach and I have a good knack for the game. He liked my aggressiveness because I'm not afraid to put my nose in there."
It isn't often coaches can find players that young at the junior college and still have four years of eligibility remaining.
"The sky is the limit there," said Hartnell coach Matt Collins. "He's a 17-year old kid but when you look at him physically he comes across with a much more mature body. He can run, he's got great hip turn and he's a competitive athlete. He can be used as a kick returner, punt returner, corner, safety and is physical. He enjoys the competition. He's a good kid on and off the field in a pleasure to be around.."