Kansas gets signing day surprise in highly-recruited Kenny Bastida
The Kansas coaches were looking for a linebacker in this class. They had a couple targets take official visits and they were still searching until they found Kenny Bastida.
Linebacker Bill Miller made a stop at Deerfield High to talk with their head coach Jevon Glenn about his prospects.
"Coach Miller came down and told my coaches he was looking for linebackers," Bastida said. "Coach Glenn showed him my film and he watched it and said he loved the way I play. He told my coach he wanted a linebacker just like me at Kansas. After that we started talking and then I took my official visit."
Last weekend he took an official visit to Kansas along with his mother and twin sister. Early on during the visit on Friday he could tell he liked what he was seeing from the coaches. He mentioned spending time on the visit with Bill Miller and Doug Meacham who also has connections to Deerfield High.
"I met all of the coaches at a dinner," he said. "They talked a lot about the things that matter to me like the culture, the people and academics. Then we got to the football aspect of it. Most coaches will just talk to you about football but the coaches seem to care about who you are is a person.
"The thing that I will always say is there are a lot of pretty facilities out there. But I always say what makes a play special are the people inside of it. People from Kansas are really special and they seemed nice."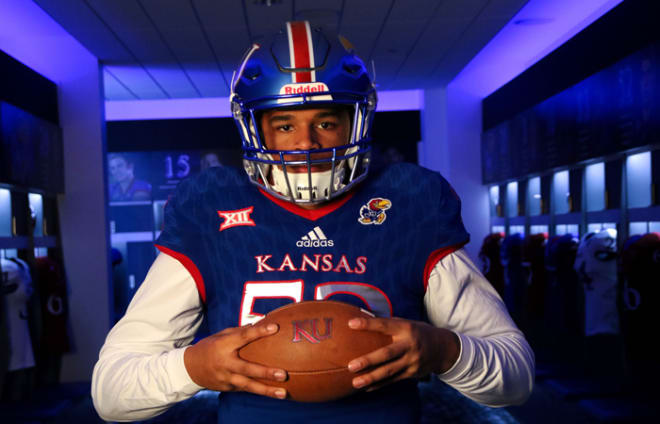 During the visit Bastida gave David Beaty a verbal commitment. He said his family liked what they saw on the visit and his sister, Keily, is interesting in attending Kansas as a student.
For Bastida it ended a long recruiting process that started his sophomore year when he transferred to Deerfield. He had a good season that caught the attention of college coaches although he was a sophomore. Then everything took a different turn his junior season.
"I got injured and things started to slow down," he said.
The injury didn't keep teams away from offering almost a full season before his senior year. He picked up early offers from Penn State, LSU, Michigan State, Wisconsin, and North Carolina to name a few. One thing Bastida told himself was not to rush into the recruiting.
"My senior year a lot of things started to pick back up where it was," he said. "By then I was just focused on football and I wasn't buying into all of the hype. I got off Twitter and I didn't tweet or do anything with social media. I wanted to take my recruiting process really slow because a lot of the coaches that were recruiting me before were just about football and not about me is a person. There were a lot of coaches coming in and out recruiting me."
Kansas and Bastida were the right match for each other. The Jayhawks were looking for a linebacker with size and someone who could handle the physical part of the game. Bastida at 6-foot-2, 235 pounds fit that description. If you turn on his film you will see him delivering big blows from his middle linebacker spot.
"Coach Miller said he likes my thump and my aggressiveness that I play with," Bastida said. "He has coached one of the best defenses when he was at Miami and then was at Florida State for a couple years. He knows what a true linebacker should play like. I feel like under his tutelage I can be a great linebacker. Hopefully I can be the best linebacker that he's ever coached. He just told me he likes how I play with my physicality."
Bastida said in the last month he had visits from coaches at Missouri, North Carolina, South Carolina, Colorado, Temple and "a lot of different schools." Before signing with the Jayhawks this morning he looked back on his high school career and is excited about the next step.
"Everything is so surreal," he said. "Everything I have been working for since my freshman year is coming true and it is exciting. It is all kind of crazy and right now I really don't know how to take it. I'm just excited to get up there in June. When I was up there on my visit I totally forgot about Florida. I felt like Kansas was my home and I didn't want to leave."