Key players already on campus for 2017 season
The Jayhawks are looking for five to six players to round out their 2017 recruiting class. Although the commitment list doesn't accurately tell the story the Jayhawks have two, key players already on campus.
Daylon Charlot and Charles Baldwin arrived on campus this summer and will sit out this season. The transfers from Alabama have been learning the offense and will be ready to contribute next year.
Charlot has shown good work ethic since arriving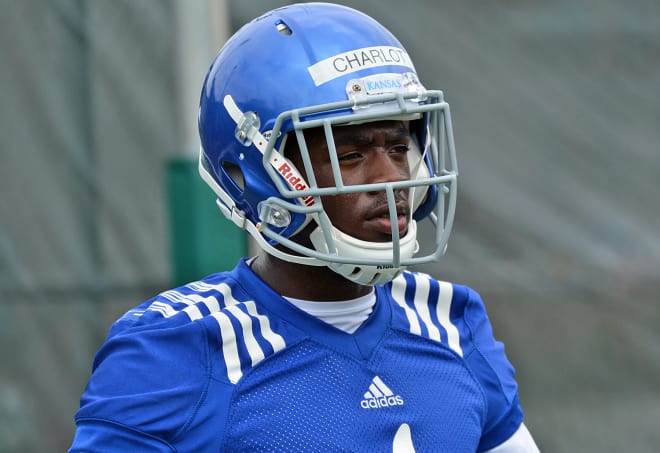 Charlot surprised many when he announced he was leaving the Crimson Tide. Alabama head coach Nick Saban said they didn't want Charlot to leave. He played as a true freshman and will have three years remaining.
When word broke Charlot would be leaving his phone was ringing every five minutes. He said the morning the news came out about his transfer he actually turned his phone off and didn't take calls.
He liked the message he heard from the Kansas coaches and the offensive style.
"I'm ready to learn the system while I have to sit out and go from there," Charlot told Jayhawk Slant. "I know everything happened fast but I felt comfortable with coach Beaty and coach Phillips. I felt Kansas would be a great place for me. They run a spread offense and they throw the football and I think that will help me out. They told me I could help rebuild a program and that meant something. I want to help build the program and it was the best fit for me."
Coming out of high school he was a four-star recruit. He played in the Under Armour All-American game and returned a punt for a touchdown.
Watching his film it easy to see why he narrowed his choice of schools to Alabama, Miami, LSU, and Notre Dame before signing. He has the physical tools but his enthusiasm for the game has caught wide receiver's coach Jason Phillips attention.
"The thing that I really like about him is his passion for the game," Phillips said. "You can tell why he was recruited so highly and attended a place like Alabama. He just loves playing football. He is very competitive and loves to compete. He's a great kid and very respectful. He's passionate about playing this game and that's what I like."
Baldwin has all the tools and plays with an edge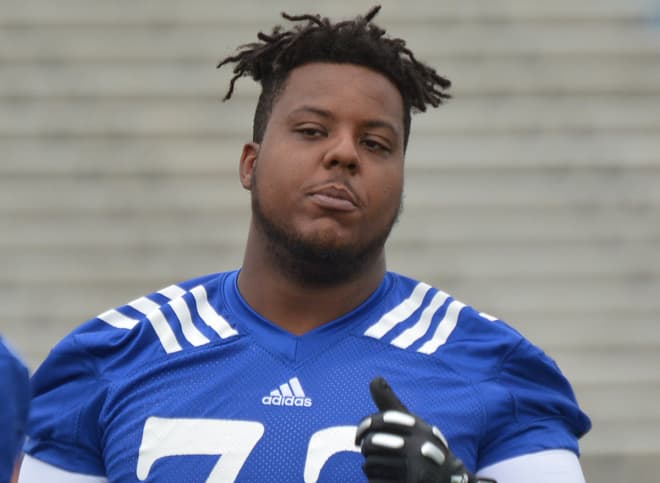 Last year Baldwin was considered the top junior college prospect in the nation at offensive tackle. He was a five-star recruit and signed with Alabama. But after the spring season he was dismissed from the program. Several schools wanted Baldwin to visit but he ended up in Lawrence.
Just before arriving on campus Baldwin told Jayhawk Slant he was thankful Beaty was giving him a second chance. At 6-foot-5, 305 pounds he has an impressive frame. It doesn't take long to spot him once you walk into practice.
"He is a different animal now," Yenser said. "He is a big ole boy. He is football savvy and has a high IQ of understanding the game. He is a specimen. He is strong, big and bends well. Every day after practice we work fundamentals."
The Jayhawks have one of the youngest and inexperienced lines in the country. But next season they return 15 of the 17 linemen currently on the roster. Two years down the road they will bring back 13 of the same players.
Yenser has said all along it takes experience, strength, and maturity to build an offensive line. Baldwin will be a big help in 2017.
"He is what you want up front I can promise you that," Yenser said. "His attitude and outlook on everything is good. He has an opportunity to be a force. What I love about him is he has a little bit of an edge to him. He doesn't have that attitude that just because he came from Alabama he knows everything.
"He has been phenomenal watching extra film and staying after practice working with footwork and hands. He is what you want."