Kyron Johnson already packing for Kansas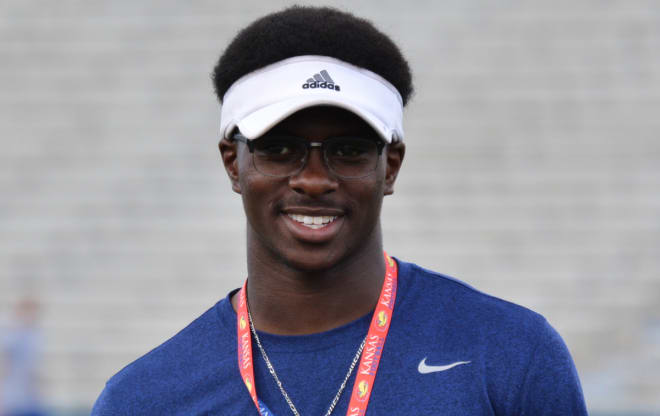 The Jayhawks are going to add some speed to the linebacker position in January. Kyron Johnson, a linebacker from Arlington, will enroll early at Kansas and go through spring football.
Last weekend Johnson took his official visit to Lawrence and already started adding weight to his frame.
"It was an amazing visit," he said. "The food was great and I just ate and ate and ate."
During the Jayhawks summer camp circuit Johnson ran the fastest 40 of any player. He turned in a 4.40 and 4.42. At 6-foot-1, 200 pounds he said he is ready to get with strength and conditioning coach Je'Ney Jackson.
Recruiting coordinator Kenny Perry started recruiting Johnson last February and used his ties in Arlington to find out about the speedster.
"It was fun to be around coach Perry and all the coaches," Johnson said. "They all sat with me at the table during dinner and we talked for a long time. I got to talk to coach Bradford and asked him more questions about the linebackers."
Johnson was hosted by running back Khalil Herbert and learned more about the program from the players.
"I hung out with Khalil and other guys on the team," he said. "They showed me a great time. I had a chance to talk to Khalil about what practice was like and get an idea."
Now that the official visit is complete Johnson isn't wasting any time on preparing for Kansas. He is taking care of business in the class room and will be a Pre-Med major at KU.
"Right now I am already packing all my stuff," he said. "I'm getting ready to go down there. Right now I have A's in all of my classes so I am really focusing on getting ready for Kansas. I'm majoring in Pre-med. We talked with Stephanie and she gave us a presentation. Some of it I already knew because on my first visit she told us a lot about it."
Johnson said his mother, father, and younger brother all had a great time on the visit. He will get to spend the holidays with his family and a few weeks later will be making the trip to Kansas.
This season Johnson had 125 tackles and was a first team, all-district selection.