Meacham likes composure of offense after scrimmage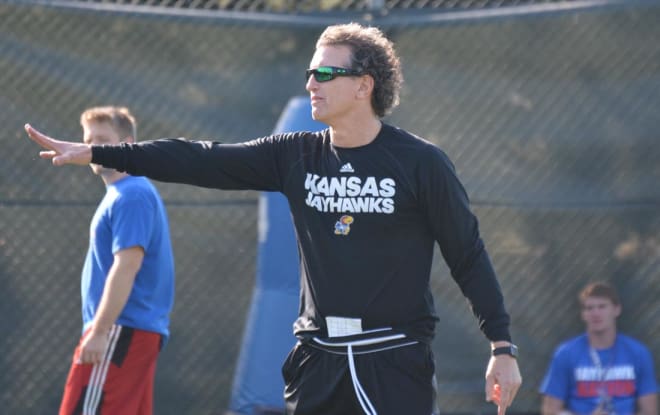 After the Jayhawks held their biggest scrimmage of the year Doug Meacham was asked what stood out the most.
He paused. Then said, "no turnovers."
Then he paused longer. That was all to his answer. There were no turnovers and to him that meant a quality scrimmage for the offense.
They started slow then put some things offensively together and Meacham liked how they kept their composure.
"The first two drives we were three and out and then after that we moved it really well and did some nice things," Meacham said. "That's kind of the attitude you are trying to get to. I mentioned Clemson from last year watching them play Alabama they did some things early on that weren't very good. But you never saw them panic and never saw anyone heads drop. You saw them keep with it and it was business as usual. And eventually it will come."
Meacham is trying to get the offensive players to understand if they keep working at it and stay within the system it will work out.
"At some places, maybe even here in the past a couple of bad things happen and the head drops and the body language gets bad," he said. "I don't feel that from these guys right now. That was an indicator (in the scrimmage). We started off slow and once we started getting into it we started moving the ball. The demeanor out there with those guys is good."
Meacham doesn't see Bender and Stanley in a competition
Meacham's answer on the quarterback competition hasn't changed from day one. And there is a chance it might not change or be known to the public up until kickoff of the first game.
He is observing Peyton Bender and Carter Stanley while giving them a chance to show what they can do in August. He isn't going to rush into a decision and doesn't look at it the same way people who follow the program do.
"I don't look at it is a competition," Meacham said. "It's not like two guys on a track sprinting to the finish line. I feel like it is two guys going through the process and learning together. We're not each day sitting there going 'who did this and who did that.' Once we get closer to game time we will probably have a pretty good idea what direction were going to go. They may both play."