Missouri DE first offer comes from Kansas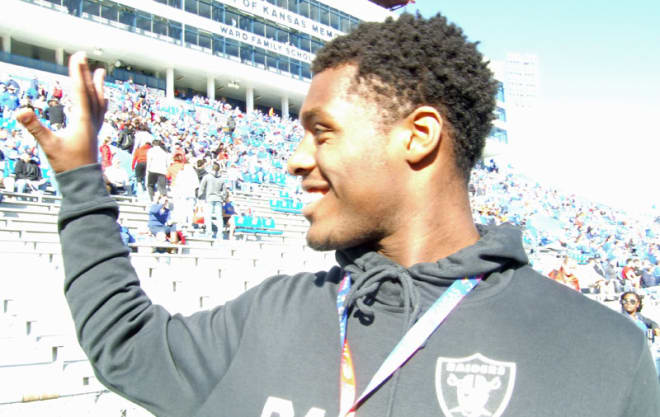 Grandview (MO) defensive end Cartez Crook-Jones was one of a large group of recruits that visited Lawrence on Saturday to see the Kansas Jayhawks take on Oklahoma State. The 2018 prospect got quite a welcome from head coach David Beaty and his staff, as they were waiting for him when he arrived at the Anderson Family Football Complex.
"My coach said they had told him they were going to offer me," Crook-Jones said of Grandview's Jeremie Picard. "But he didn't tell me. I found out when I first walked in the building. It was kind of all of them, but Coach Beaty pulled me aside, into his office, and then he told me."
"I can't even put it in words," he said of getting his first Division I offer. "It just felt like something special. When he first told me they were going to offer, I started crying a little. It just felt like something special, like all your work is going to pay off. You just have to keep working hard."
At 6-foot-4, 230-pounds, Crook-Jones has the frame to play the DE position, as well as the athleticism defensive coordinators look for in a play-maker off the edge. He has been clocked at 4.73-seconds in the 40-yard dash, 4.6-seconds in the 5-10-5 shuttle, and has posted a 33-inch vertical leap.
"I think they are going to recruit me as a defensive end," he said of the Jayhawks plans for him. "But I can also play outside linebacker, depending on what defense they are in."
A Second Team Suburban Small 6 selection as a sophomore, Crook-Jones established himself as one of the top defensive linemen in Kansas City in 2016. With 67 tackles and 14.5 sacks to his credit, he is already drawing interest from Arkansas, Florida State, Iowa State, Kansas State, and Missouri, in addition the Jayhawks.
"I've been kind of knowing, since I was younger, that I wanted to play college football," he said of the game he loves. "I knew a lot of dudes that were supposed to be pretty good, but I thought I could be better than them. My mom, she kept pushing me toward that dream."
Crook-Jones is aware of the Jayhawks' struggles in recent years, but he was impressed with what he saw of Beaty's efforts to turn the program around. He took notice of the recent improvements that have been made to the football facilities, especially the newly-renovated locker room.
"It was mind-blowing. I've been to K-State and Arkansas. All of them blew me away, but the one thing about KU, that new locker room, that was something nice. That was something special. I didn't know that there could be so much money invested into a locker room. I heard they are going to do more with it."
Though he lives in Missouri, the Grandview prospect has a connection to KU. Quarterback Montell Cozart played for the same AAU basketball team that Crook-Jones does now, and the two have talked about Beaty's efforts to turn the program around.
"He is way older than me, but my coach gave me his number," Crook-Jones said of Cozart. "We were texting back and forth. He told me the obvious, like 'We are rebuilding, and we can use dudes like you.' One thing I liked about it, it wasn't about that (selling the Kansas program) with him. He said 'You can keep your recruiting options, but just know there will always be a spot for you if you choose KU.'"
"I don't think they are that far behind," he said of the Jayhawks. "They are trying to do it the right way, and I respect that a lot. I like what they are doing with the D-line and the pass rush, and that's probably my strong suit right now. I like what they are doing down there."