Nick Williams solid with KU, wants to help turn football program around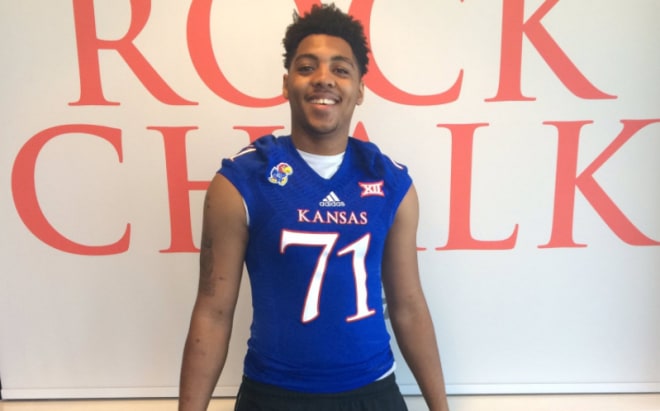 Back when Nick Williams committed to Kansas he held offers from schools like Minnesota, Central Florida, Illinois and many others.
Illinois is close to his home in St. Louis and Central Florida is undefeated and ranked in the Top 15.
But Williams has stayed true to his original commitment to the Jayhawks.
"I talk a lot with coach Beaty and coach Yenser," Williams said. "We talk a lot about how things will be like when I get on campus, what to expect and how we can get things turned around."
It is easy to see what college coaches see with Williams. At 6-foot-8, 275 pounds he has a frame that can carry a lot more weight. He also shows his athleticism on the basketball court averaging nine points and eight rebounds a game for Ritenour.
"They said they liked my frame because I am tall and lanky but I am athletic," Williams said. "They said they can build on to that once I get there. They said they can add a lot of muscle and make me more powerful."
During the season other college coaches reached out to Williams but they didn't get very far.
"A couple of coaches hit me up and tried to recruit me but I told them I was already committed to Kansas," he said.
Williams is getting focused on his senior season in basketball and is ready to get back to Lawrence for his official visit.
"They (Kansas) are a young team right now and can still build on what they have," Williams said. "I tell myself I can be part of a new generation that helps KU football win."