Notebook: Could Armstrong and Wise both play DE?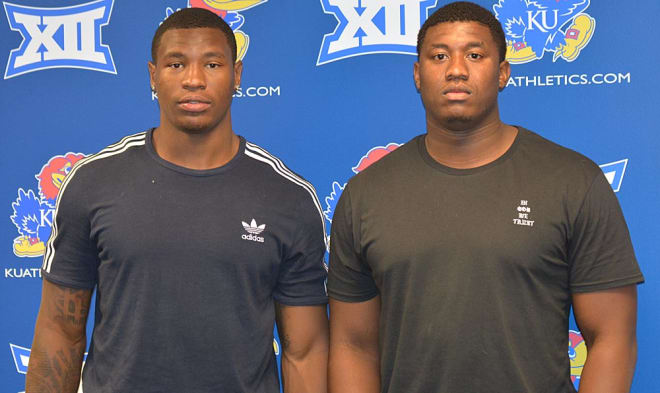 The defensive coaches are still watching players compete at the strong-side defensive end position to complement Dorance Armstrong on the opposite side.
Defensive line coach Jesse Williams told Jayhawk Slant they have been careful not to label every player a nose tackle, defensive tackle, or defensive end. He said they have shuffled players around along the defensive line.
One player getting reps at the defensive end spot is Daniel Wise along with others working in that same position.
"There are a lot of bodies that we have," Williams said about the strong-side position. "You have Josh Ehambe, Isaiah bean, Willie McCaleb, Maciah (Long) and Daniel wise. We have the ability to move guys who are inside to the outside. In coach Bowen's style of defense there are a lot of different ways we can attack."
Long has found a home at defensive end after starting as a linebacker, then a brief stint on offense.
"The best thing for him he is getting more reps and able to lock in and do the same things over and over," Williams said. "When you get that then you are able to build and get technique. The technique phase we are not a finished product but he is starting to grow daily. He came to me the other day and said 'coach I am getting all of this'."
Meacham will use a tight end, H-back, and fullback 
The first few weeks of the season will show a lot how Doug Meacham is going to run his style of Air Raid offense. It is has been widely talked about how strong the depth and competition is with the wide receivers. But Meacham also plans to incorporate another position that could line-up anywhere from tight end to fullback.
Meacham said Ben Johnson has been ideal at that spot because he has the ability to play tight end, H-Back, and even fullback.
"That is big because when you have someone like that you don't have to substitute and you can run your tempo," Meacham said.
The depth chart behind Johnson has three players competing with Quinton McQuillan, Moses Marshall, and James Sosinski. McQuillan is a walk on from Lansing High. Marshall and Sosinski are coming from the junior college ranks. McQuillan arrived early in the summer and the other two showed up just before fall camp.
"Mcquillan is who's doing really well," Meacham said. "He can play some tight end and fullback. Moses Marshall is the same way. James Sosinski got here during camp. Unfortunately, those two guys just got here. We're trying to get some of those guys in a little bit but we're still working on that."
There are still offensive line spots up for grabs. Meacham said they want to get everyone in the mix more reps but he likes the upside from the young players on the right side.
"We're trying to get them as many reps as they can and that will make them better," he said. "The guys on the right side are pretty young but they're athletic. They're only going to get better. It is just a matter of repetition, hearing it, seeing it, and doing it."
You can now join Jayhawk Slant for 90 days FREE on the house! The offer is good through August 31, 2017.
Leading into basketball season you can follow the Jayhawks recruiting in basketball and football. You will get team coverage, analysis, video, photo galleries, and behind-the-scenes recruiting info.
You also get full access to the premium message boards to discuss Jayhawk sports with thousands of KU-only fans.
The Jayhawks will kick off the football season the first week of September and official visitors will start arriving around the same time. You can follow all of the news.
It is easy to sign up. All you have to do is pick if you are a returning/registered user or new user.
Please use the CODE: KANSAS90
RETURNING/REGISTERED USER SIGN UP:
If you are a past member or have registered for a user name you can sign up by going HERE
Remember use the code: KANSAS90
NEW USERS SIGN UP:
If you are a new user and don't have a user name you can sign up by going HERE
Remember use the code: KANSAS90