Notebook: Juco transfers making moves at corner
When the Kansas coaches went out to add junior college defensive backs they weren't sure what position Antonio Cole projected to. He played cornerback and safety in his college career.
It didn't take long for defensive coordinator Clint Bowen to move him to corner. Cole told Jayhawk Slant on the drive reporting to campus in June he could play either position.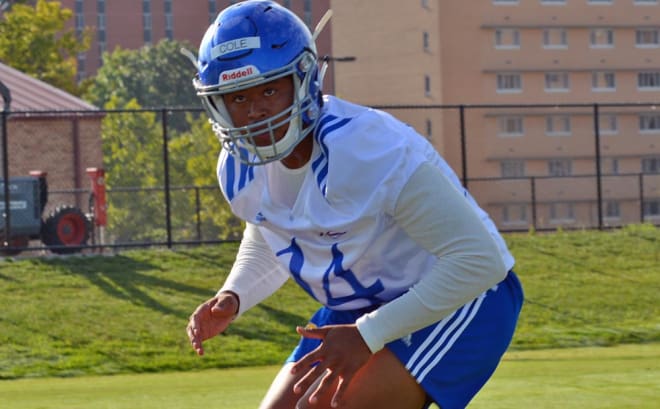 Cole will add another big, physical body to the corner spot along with newcomers Hasan Defense and Shakial Taylor.
"Right now Hasan probably has the edge of being the top guy," Bowen said. "It is a matter of him taking all of the reps in the spring. The unfortunate thing is Taylor (injury) did not get reps in the spring. Shak did look good today and is a bigger body. He is a tall, long corner. He moves pretty good. Antonio Cole is another big corner."
The new summer rules have helped the junior college players catch on quicker. They allow coaches to work with players off the field up to 90 minutes a week in the meeting room.
"The good thing now is the summer meetings that we get," Bowen said. "We get them and you get to go through your installations. You can't go on the field but you get them in the meetings. They get to hear it in the spring and then a new guy gets to hear it in the summer time. So that way fall camp isn't the first time that they're hearing it."
Bowen was positive with the new additions at corner and said it will be a good competition when you add returning players Ian Peterson, Julian Chandler, and Shola Ayinde. He also said Robert Topps is in the mix, a 6-foot-2, 195 pound true freshman who arrived in June.
Bowen on DE position opposite Armstrong, Dineen brothers, and Loneker Jr.
Bowen talked about the need for someone to step up on the defensive end opposite Dorance Armstrong. He talked about local products in the Dineen brothers and how Loneker was doing after his father passed away.