Notebook: Specialists still competing, Perry looking for depth
The Jayhawks have started their game preparation for Southeast Missouri State. That means everything is turning into season-mode. This week the offense and defense will start going against the scout team who will practice the same schemes that Southeast Missouri State uses.
For special teams coach Joe DeForest, his plan is different. While most of the coaches are starting to settle into their one and two units and form their depth chart the competition with his unit is still wide open.
The starting punting and kicking jobs are still open and that might not be solved this week. Cole Moos and Kyle Thompson are still going at it for the punter job, and Gabe Rui and Liam Jomes are doing the same at kicker.
"I will take it all the way until I feel comfortable and that could be into game week," DeForest said. "Cole and Kyle are both booming the ball and as far as kickers go Rui and Liam are neck and neck. It is a great problem to have. Considering one I got here we had no choices. We have depth at a lot of spots so I am happy with that."
DeForest is trying to find the best way to put the kickers under difficult circumstances in practice to see could emerge as the winner for week one.
"We put the offense on one hash and the defense on the other hash and they're screaming at the kickers who gets three kicks each," DeForest said. "One went 1-for-3 and the other went 0-for-3 but it was from 50 yards. I made it really challenging. We're going to do that a couple more times before I make my decision."
Perry looking for more corners to step up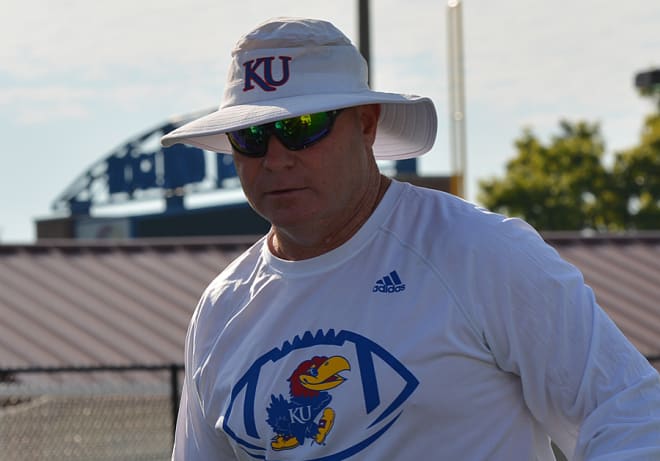 Kenny Perry settled in after fall camp on his top two corners in Shakial Taylor and Hasan Defense. But he wanted to find out a lot more than that after the first three weeks of practice.
"Those two are at the top," Perry said of Taylor and Defense. "But that wasn't my goal this camp. We needed a find four guys. We need four total. I know we have some kids it's just that those other ones and the new players have to start rising up. Like I said you can't play every snap in this conference so we have to find four that can play and that is our challenge and my challenge."
One of the deepest positions on the roster for Kansas are the wide receivers. They have provided a good challenge for the cornerbacks and getting them ready for what they will see during the season.
"We have been tested and that is the good part," Perry said. "We have played a lot of guys and we need more kids to step up. I have said it many times being in this conference you had better have depth at that position (CB). Every day is a new challenge. Our offense has some good weapons and they're challenging us.
"We're putting our kids in situations where you have to make plays. When you don't make plays as a coach you have to look at yourself first in the mirror and think what are you doing wrong. Then it trickles down to the kids and what are they doing. We knew we're going to have new guys but that isn't an excuse. I have never used injuries or new players as an excuse. That is on me so we need to have them ready to play."