Oklahoma OL Jackson Satterwhite picks Kansas
Jackson Satterwhite wasn't sure how his senior year would go. He missed his junior season after sustaining a back injury.
The early diagnosis was up in the air whether he would be ready to play this season.
"They told me it would be an 18-month recovery and that I wouldn't play again in high school," he said. "And I made that recovery in 12 months and got back in time to play football and had a good senior season considering everything."
Satterwhite beat the injury and was ready to suit for his final year of high school football and turned in a great season. He was voted the offensive line MVP of his district, and also got post-season notice for his play on the defensive line.
The Kansas coaches recently started evaluating his film and after a couple weeks of conversations and analyzing offered him a scholarship.
"They got back with me and had a conversation last night with Coach Meadows and he wanted to go ahead and pull the trigger on me," Satterwhite said. "He's been really good with me. He's been real the whole time, and I loved it. We connected from the very get-go."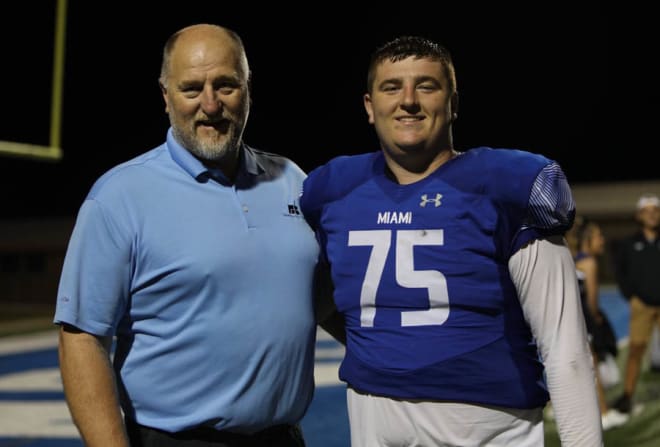 After getting the offer from the Kansas coaches and thinking about it overnight, Satterwhite made the call this morning to tell the staff he wanted to commit.
"This morning I had a conversation with Coach Miles, Coach Dearmon, and Coach Meadows, and it was really good, so I felt like it was the right fit," he said.
Satterwhite is very familiar with Miles because his father, Stacey, was an All Big 8 defensive tackle at Oklahoma State. He played on the same team with Barry Sanders right before Miles took the job at Oklahoma State.
"My dad knew him because my dad played at Oklahoma State," he said. "He got the chance to meet him and everything. I met him through my dad one other time when I was a lot younger, and he realized who I was when he was on the phone and he just kind of laughed and talked about it."
Because Satterwhite was injured as a junior he didn't have any film to send to college recruiters. He was invited to several offensive line camps in the summer while he was coming back off his injury. The Kansas staff watched his film and liked what they saw.
"They just said they liked how I was so violent with my punch," he said. "They like how I finished until the whistle, and even past the whistle. They just liked the violence and how I was nasty on the field is kind of what they were saying."
Satterwhite believes he has a big upside because if his size, athletic ability, and the fact he is still learning the game after sitting out his junior year. He also plays basketball and baseball at Miami High.
He will take his official visit to Kansas on January 31.