One of nation's top receivers picks Kansas at Junior Day visit
When the news broke earlier in the week the Jayhawks would be entertaining some of the top prospects in Louisiana not many were expecting commitment news.
But that all changed when Devonta Jason, the nation's sixth-rated receiver from Landry Walker told the Kansas staff he was giving them his verbal commitment.
"The reaction was crazy," Jason said. "Coach Beaty started crying. He said this is what we need to win championships and make the program great. He told me and Corione this is where it starts."
Jason and his teammate Corione Harris told Beaty early on Saturday evening their intentions to be Jayhawks.
Kansas running backs coach Tony Hull was the lead recruiter for both players. Hull is the former head coach Warren Easton in New Orleans. It was the feeling from the coaching staff that helped Jason make his decision.
"There were a lot of things that stood out to me," Jason said. "The locker rooms and the people they have on their staff really caught my attention. They make you feel like family. They made me feel comfortable. Even though I'm 15 hours away from home I feel comfortable."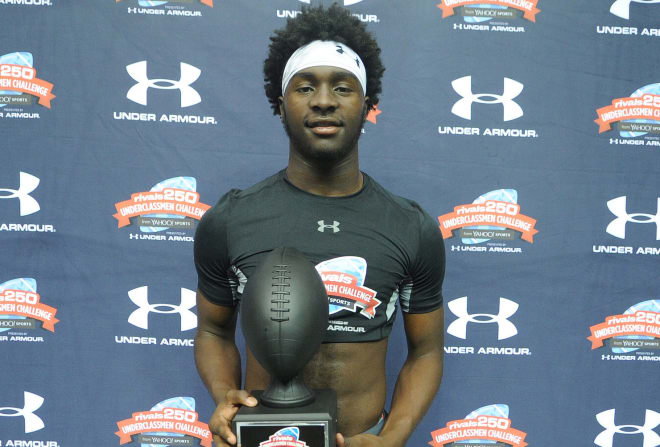 Jason is one of the most sought-after receivers in the nation. He holds early offers from Alabama, LSU, Arkansas, Florida, Oklahoma and many more. Jason, who goes by the nickname Whop, also got to re-connect with former teammate Mike Lee.
Lee was one of the players honored at halftime during the basketball game for earning several post-season honors. That is something that Jason has followed.
"It catches my attention often," Jason said of Lee's season. "He was a freshman All-American. Watching him make the plays he did as a freshman and getting the playing time he did stood out to me a lot."
Jason has the ability to play immediately at Kansas the day he steps on campus. The Kansas coaches told him they liked everything about his potential.
"They said they liked the savage in me," he said. "They told me they liked everything about my film and what kind of player I am."
Jason is the highest-rated receiver to ever commit to the Jayhawks.