Opposing View: Early look at Central Michigan
To get an early look at Central Michigan as they start fall camp we caught up with John Evans who covers the team.
What does the offense look like? Talk about the key players returning and who was lost to graduation or other reasons?    
The offense looks, in a word, explosive. CMU is switching back to the spread offense for the first time since 2009, and they have a new offensive coordinator in Chris Ostrowsky. Ostrowsky comes from Northern Michigan University, one of the top scoring teams in their division of college football, averaging more than 30 PPG.
Key players returning: Nearly everyone. The entire offensive line returns from last season, include depth players that subbed in at times. The big names are Austin Doan and Derek Edwards, two guys who will be expected to anchor the line.
The running backs group is one of the most special in the conference. Senior and 4-year starter Devon Spalding returns to lead the group, but there are others that will not only challenge, but take away snaps from him. Jonathan Ward showed flashes of greatness as a freshman last season, and Romello Ross will be back after missing all of last season due to a knee injury. Ross was a breakout player as a freshman in 2015.
The wide receivers are also deep, bringing back First Team All-MAC contender Corey Willis, who scored the famous touchdown against Oklahoma State last September. Mark Chapman will be the other top wideout target to go along with Anthony Rice and Brandon Childress, who CMU will be looking at to make big strides as a redshirt sophomore this year. Childress is 6'3" and has tremendous athletic ability.
Although there aren't many, the losses on the offensive side are huge. Both quarterback Cooper Rush and wide receiver Jesse Kroll are gone to graduation. Rush is currently on the Dallas Cowboys roster.
The quarterback position is an open battle right now. Redshirt Freshman Tony Poljan (6'7") has the early lead because of his experience during spring ball. But battling with him will be 5th year graduate transfer Shane Morris from the University of Michigan. Morris is a former 5-star recruit was the metro detroit area, and it should be fun to see who wins the job.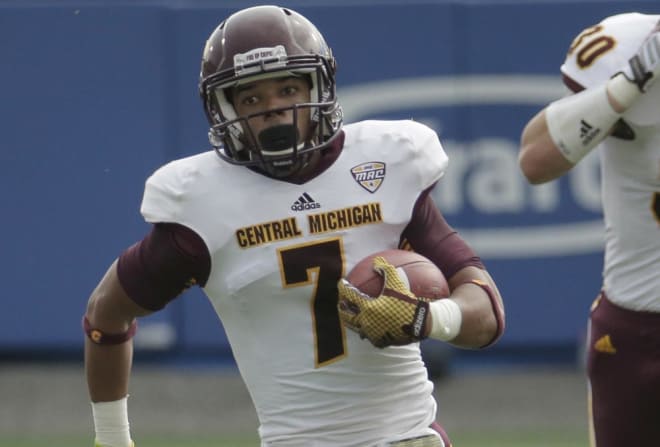 What is the early scouting report on the defense and who are the main players returning and who are the key losses?
The early scouting report on the defense is a mixed bag. There's some good, key components returning, but there are also a lot of question marks. The key returning players come on the outside with CB's Josh Cox and Amari Coleman both back for their senior campaigns. Coleman is a First-Team All-MAC contender and Cox started all 13 games last season and had 9 tackles and an INT against Ok. State. Joe Ostman, defensive end, is another returning senior that really broke out last season. He will be the top edge rusher on the defense.
The key losses, ironically, also come on the back end with the loss of Tony Annese at the safety position. He was a captain and a reliable player. Zach Oakley and Otis Kearney will be expected to take over at safety with Ray Golden also battling for playing time.
What is the overall sense of the team returning in 2017 among the fan base?
It feels as though the overall sense is a cautious excitement. The team and its recruiting have continued to trend up under 3rd year head coach John Bonamego, and his NFL experience and ties have people excited.
Although some may view last season as a set back because of the way things ended, you could see the team trending in the right direction. The new offense and fresh faces have people looking forward to football this fall.
It still a ways off but what is your early take on the game against Kansas?
My early take on the Kansas game is similar to any time they play a mid-tier, Power 5 conference team. It's a game that CMU can win, but it's going to be a battle. The talent level between a team like Kansas and CMU isn't all that different to be honest, and games like this always come down to the little things, the way the ball bounces, and coaching. Just a few years back I witnessed Syracuse beat CMU 41-0 in Mount Pleasant.
And the very next year (Bonamego's first season) CMU went into Syracuse and almost beat them (lost in OT). So you really never know what's going to happen in a game like this, but the Chippewas will be coming to town with plenty of confidence, that I can guarantee.