Opposing View: The Ohio Bobcats
Jason Arkley has provided good insight for us over the last two seasons when it comes to Ohio football. Here is his early take on the Bobcats and thoughts on facing the Jayhawks.
Ohio was the preseason favorite on their side of the conference what are your quick feelings about the team heading into fall camp?
The Bobcats, like in many Frank Solich years here, are solid in most spots. The program's approach from the start has been with a long-range approach, and that means steady roster building, and lots of redshirts.
The approach helps in years like this. Ohio loses three of four starters on the DL, but will likely start four 5th-year seniors there. The Bobcats could have a front seven that is made up entirely of seniors.
Ohio will be solid defensively, but likely won't get after the quarterback like last season (program-record 44 sacks). The Bobcats hope to make up the difference with better play in the secondary.
Offensively, Ohio will want to be a run-first, control-the-ball kind of club, and should have few issues in special teams.
With a schedule light on top-notch opponents, I think eight wins is probable, and maybe more if the quarterback elevates just a bit.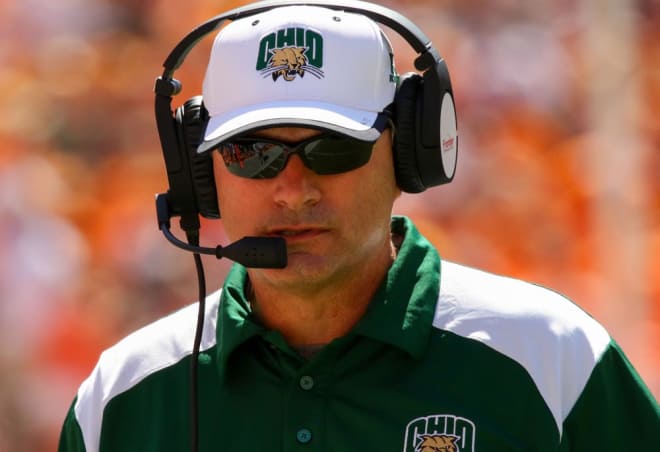 What do you expect from the offense this year and who are the key losses/returnees?
I expect Ohio to run the ball, or at least want to, a lot. The Bobcats return three starters, and five players who have starting experience, on the offensive line. At RB, the leading rushers from the last three seasons return (AJ Ouellette, 2014-15; Dorian Brown, 2016).
Key losses include the top two pass-catching WRs from last year, (Sebastian Smith and Jordan Reid) and QB Greg Windham who pillaged the Jayhawks a year ago.
Ohio should be alright at flanker with Brendan Cope, Papi White and Elijah Ball, and also return a pair of 5th-year tight ends in Troy Mangen and Mason Morgan.
The x-factor is quarterback. Sophomore Quinton Maxwell started seven games a year ago, and if he can turn the proverbial corner in 2017 then Ohio's ceiling gets higher.
Same for the defense, what do they look like going into the 2017 season?
Ohio lost four players from a front seven that ranked fifth nationally in rushing defense and logged 45 sacks. DE Tarell Basham (Colts), DT Casey Sayles (Rams) and OLB Blair Brown (Jaguars) are all currently on NFL roster.
There are holes to fill. But there's also plenty of established players returning. Senior MLB Quentin Poling is one of the best defenders in the MAC. Sophomore safety Javon Hagan is blossoming into another one after earning MAC Freshman of the Year honors in 2016. OLB Chad Moore is under-valued as a cover linebacker.
There is experience on the DL. If Ohio can find dependable corners, the top five return from last year, there's a chance the Bobcats can be as effective as last year.
What are some of the key headlines i.e. injuries, any players leave, position battles, etc?
Ohio lost RB Maleek Irons, who split reps with Brown last season, from the year after an off-season arrest in January. He's still on the roster, but will not play in 2017.
On the DL, two promising depth players —- DT Wyatt Shallman (Michigan grad transfer) and redshirt freshman DE Amir Miller —— were lost long-term because of knee injuries the first week in camp.
Cornerback remains a hotly contested spot, and back-up tackle positions on the OL are another area of focus. With projected starting DEs Trent Smart and Kevin Robbins working their way through injuries in camp, there's been a pitched battle for the third and fourth spots fighting for rush end.
At QB, although Maxwell has been fine in fall camp he's being pushed hard by sophomore junior college transfer Nathan Rourke. I expect Rourke to get reps, no matter the results of camp, throughout the non-conference portion of the schedule.
It is still close to a month away but how do you see the game against Kansas?
I think the Jayhawks will be better than a year ago, but I'm not sure it will result in a lot more wins.
This is a huge swing game for both sides. Kansas has the notorious road-game losing streak it would love to end, and I'm sure believes this will be a chance to do just that.
Ohio, meanwhile, has never defeated a Big XII team on its home field.
I think the Bobcats are more sure about who they are and what they're capable of at this point. Athens, Ohio isn't like traveling to Norman, but there will be certain challenges for the Jayhawks in a different kind of environment.
I'm picking the Bobcats. I like Kansas' development, and the game will be closer than a year ago, but I can't give the Jayhawks the benefit of a doubt they haven't earned yet.