{{ timeAgo('2023-01-23 23:59:36 -0600') }}
basketball
Edit
Poor start, second half plague Kansas at Baylor
A lack of second-half production kept No. 9 Kansas from preventing a three-game losing skid on Tuesday night, the first since the 2020-21 season, as No. 17 Baylor held off KU 75-69 in Waco.
Kansas (16-4, 5-3 Big 12), trailing by as much as 13, grabbed the lead less than five minutes after returning from halftime trailing 41-34. Gradey Dick scored 16 second-half points on his way to a game-high 24 total points on 8 of 13 shooting.
The flame of Baylor's offense died down toward the break, allowing Kansas to finish the half better from the field on 11 of 23 (47%) first-half shooting. This featured an 8-3 run led by Jalen Wilson (10-16, 0-0, 23), Kevin McCullar (3-9, 8-8, 14), and KJ Adams (1-5, 0-0, 4) heading into halftime.
Struggling after tipoff in recent weeks, Kansas is soaking up some tough lessons, according to McCullar.
"When you dig yourself a hole early, it's always hard," McCullar said. "You always want to be the one up. You're going to have to win games like that down the stretch. Mentally, it goes beyond that in March Madness. We're just building on it. Looking at the tape and learning from it."
Even with the sizable scoring Dick showcased in the second, Kansas still finished the latter 20 minutes on 13 of 29 shooting. Wilson's nine points on 4 of 6 shooting were the next best offering for KU in the second half, which included the Jayhawks' lone second-half three-pointer.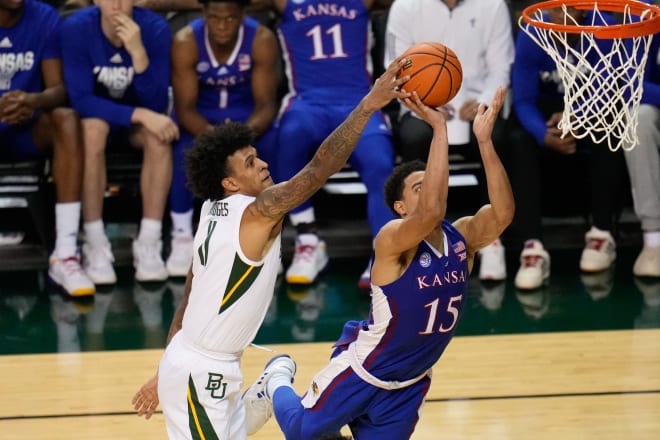 Kansas coach Bill Self felt his team played much better when the tempo slowed down.
"When they get a lead, sometimes they play a little slower," Self said of Baylor. "That second half, I didn't think Baylor played with the same speed in the second half as they did when the game was starting. It's also probably them playing a bit more conservative."
An early two fouls saw Dick find the bench, but Wilson and McCullar each finished the game with four personal fouls. Defensively, Kansas managed just nine points on 15 forced turnovers, but still won the glass battle (25-18). Baylor won the glass overall with 35 total rebounds.
Starting guard LJ Cryer led Baylor with 22 points on 8 of 16 shooting. Cryer also knocked down a game-high five 3s. Three more Bears – Adam Flagler, Jalen Bridges, and Langston Love – also dipped into double-figure scoring. Kansas held Baylor to 24 of 52 (46%) from the field.
Dick said during postgame that it's important for Kansas to flush its recent struggles.
"I think the most important thing is not focusing on what just happened," Dick said. "And for us, that's the last two games. It's difficult when you're playing in a league like this and there are no gimme games. Hats off to (Baylor) and now we've got to bounce back."
Among the lowlights, Kansas did have a perfect night from the free-throw line. McCullar 8-8) chipped in eight points from the stripe, Dick (6-6) added six, and Adams (2-2) chipped in two.
Kansas travels to Kentucky on Saturday as part of the SEC/Big 12 Challenge with tipoff slated for 7 p.m. on ESPN.