Recruiting Talk: Kurtis Townsend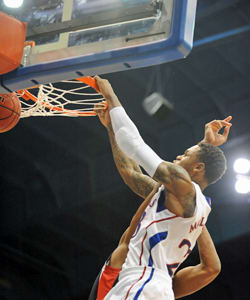 We talked with Kansas assistant coach Kurtis Townsend for a few minutes on Thursday on various topics regarding recruiting. Also, if you have time check out our previous interview with Kansas assistant Norm Roberts. You can read that interview
here
You were the lead recruiter for Ben McLemore. Talk about the early evaluation stages during his recruitment?
I saw him when he was a junior but he was so raw and he didn't know how to play. He was playing center because he was the tallest but the main thing that struck me was that his jump shot was unbelievable. I was thinking about how we could turn him into a two guard. One of his weaknesses right now is his ball handling and his passing but it's because he had to play in the post when he was young. He's learned and he is getting better at it.
I started talking to his high school coach, his mom and his AAU coach Darius Cobb. When I watched him play in the summer during AAU ball his teammate Bradley Beal was getting all the attention but I was thinking this kid isn't bad. He wasn't as advanced as Bradley and didn't have the basketball IQ and looked more polished but Ben had this raw talent that you just don't see very often. We loved his athleticism but it was jump shot that stood out. I thought that you don't see kids shoot the ball like that very often. I saw every game Ben played because I was also recruiting Bradley. With Bradley it came down to us and Florida. Ben didn't even start for his AAU team.
Do you sometimes look harder at those guys who are playing out of position on their high school teams to see if they could possibly be a hidden gem like Ben?
Here we don't have to but if I was at a smaller school I would see a kid where they play with smaller sized post guys but here we usually look at the cream of the crop guys who are playing in the right spot.
With some kids having seven or eight contacts around them that you have to get to know, what is your strategy in finding out who has the most influence in the recruiting decision?
That's a good question because the recruits that you are allowed to talk to you have to ask them. Most of them are honest. They will say talk to my mom, my AAU coach, but don't talk to this guy because he has nothing to do with it. They will say that. One of the things that is important is being able to talk with the players girlfriends. The girl that Ben was going with in high school was great because she would tell you that a lot of people around her were pulling for Missouri because of where they were from. I developed a relationship with her and she would tell Ben what a great place Kansas is.
It also could be an uncle or a cousin, but the girlfriends are important because kids at that age the girlfriends really have their head. Now kids won't directly say their girlfriend because they don't want to seem like they're whipped but I think it is an important piece.
What's the process of going out there and increasing your contact list every year?
You try to hang out with AAU coaches as much as you can. You got to get out in front of them face to face. If I go see a kid practice then I will try to make it a point to have his AAU coach come so I can sit down and talk to him. You get the coaches on the phone and talk to them not just about recruiting but basic everyday life type of things. You enjoy some of the same things and you really develop a relationship with them.
As far as getting new contacts, there isn't a big turnover every year but guys move on and take a college job so the AAU team has a new coach. They are always bringing guys up. Also for potential players, AAU teams recruit as hard as we do. It was funny because Coach Roberts was telling me that the AAU coaches were doing a full blown recruiting presentation for his son Justin. He said they were doing an in home like we do. I think it's key to get to know those guys on a personal basis.
Are there any AAU programs that you pay more attention to than others and what are other ways you form relationships with coaches?
There are so many good AAU teams so you have to have your hands in every one of those pots. If you get a kid in your program and they have success then you have built that relationship. We have Andrew White here and then we get Frank Mason who played in the same program. They like what Andrew is doing here so they figured it would be a great spot for him.
To be an effective recruiter it seems you would have to possess a high emotional intelligence. When you were a younger coach what were some of the things you would do to improve those skills?
It's definitely a people business and you have to have people like you. Bill is as good as I have been around because he has everybody thinking that they are the most important people in the world. When I was a high school coach my day job was in sales. I worked for Nabisco and Budweiser so I would have to sell 20,000 Oreos in a week. It was nothing different than doing this. You had to develop a relationship with the store manager. People have to like you and want to help you.
With Norm Roberts back, what does he bring to the table in recruiting?
He's been a head coach and he understands the game but he is very personable. He brings even more contacts to the table. He and Joe are really strong on the East Coast. They know a lot of AAU coaches and high school coaches that I don't know from being on the West Coast. Since Norm has coached at Illinois and Tulsa his Midwest ties are just as strong. The best part is he is fun and I love to be around him. He's energetic and he doesn't have a bad day. I think he's great for recruiting because he will take some pressure off of all of us.