Riley will handle quarterbacks in new position
Garrett Riley will assume the role of coaching quarterbacks and Rob Likens is on his way to Arizona State
Kansas football head coach David Beaty announced the promotion of Garrett Riley to an on-field assistant coaching position, where he will mentor the KU quarterbacks. Riley, who joined the KU staff in the spring of 2016, spent the past season as an offensive analyst for the Jayhawks. Riley replaces Rob Likens as one of KU's nine full-time assistant coaches as Likens departed Kansas for a position at Arizona State.
"Garrett has been a tremendous asset to our program since the day he set foot on campus," said Beaty, who is entering his third year at the helm of the Jayhawk program. "Having played under Mike Leach at Texas Tech and worked closely with his brother, Lincoln Riley, during his time at East Carolina, Garrett has had his hand in some high-powered offenses. His extensive knowledge of the Air Raid offense has been invaluable as we implemented it to our team, and I am looking forward to him having an even greater impact in his new role."
Riley joined the Kansas staff after spending the 2015 season as the outside receivers coach at East Carolina. During his time coaching the ECU outside receivers, Riley mentored Zay Jones, one of the most decorated receivers in NCAA history. Jones recently became the all-time NCAA FBS career receptions leader with 399 catches.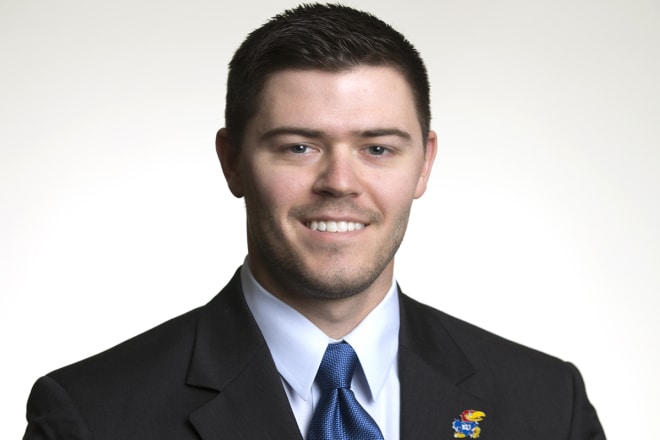 Riley was on the staff at ECU a total of three seasons, his first two as an offensive assistant working alongside Lincoln Riley, who is wrapping up his second season as the offensive coordinator at Oklahoma. As an offensive assistant, he worked primarily with the quarterback position, while coordinating the defensive scout team and conducting video analysis. During his time working with the ECU quarterbacks, Riley assisted Shane Carden, who became the school's all-time leader in passing yards (11,991) and passing touchdowns (86). Carden was named the 2014 American Athletic Conference's Offensive Player of the Year.
Riley earned his first collegiate position in 2012 as running backs coach at Augustana (Ill.) College, helping rebuild a Vikings program that was 2-8 a year earlier into a 5-5 squad that improved its rushing total by 500 yards. Prior to his year at Augustana, he spent the 2011 season as a quarterbacks and passing game assistant, where he helped Lubbock's (Texas) Roosevelt High School set four school quarterback and five receiving records in 2011.
Riley earned a bachelor's degree in general business from Texas Tech in 2012 and was a quarterback on the Red Raiders' roster during the 2008 and 2009 seasons. As a quarterback at Texas Tech, Riley was directly mentored by Leach, who was not only the head coach, but also Riley's position coach. During his time at TTU, the Red Raiders registered 20 wins and pair of bowl appearances. He transferred to Stephen F. Austin in 2010 and helped the Lumberjacks to a Southland Conference title and a No. 1 FCS rank in both passing and total offense.
Likens joined the Kansas program in January 2015 as offensive coordinator and quarterbacks coach as Beaty was formulating his initial KU coaching staff.
"We have enjoyed having Rob as part of the Jayhawk family," said Beaty. "We wish him and his family all of the best in their future endeavors."