Robinson talked about Kansas decision with family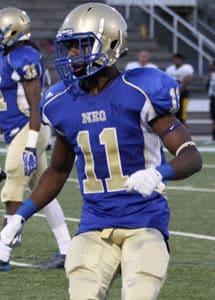 When
Stephan Robinson
left Lawrence he drove back home with his family to Oklahoma. During the drive he had a chance to break down his recruiting situation with his family.
In the beginning of the drive he was thinking about where he might take his last visit. Virginia Tech started to show interest after they hired Justin Fuente and Iowa State coaches met him last week at school. He also had Tulsa and Southern Miss as possible destinations for a final visit.
It is a good thing the drive back home gave him time to talk things over with his family.
"The big thing was the way they treated my family and they loved it," Robinson said. "Me and my little brother are close and they treated him well. The visit was great I loved it. I love the school and everything about it."
His mother Rolonda, father Ken, and younger brother, Kedric all went on the trip. Once they arrived back home they decided the visit to Kansas was enough to make the call to Kansas head coach David Beaty.
"When I talked to him I told him I was going to take my talents to Lawrence," Robinson said with a laugh. "He was so happy I thought he was about to cry. He told me I am going to be a big part of how they're going to turn things around. I'm very excited and ready."
The Jayhawks started to pick up recruiting interest in October when defensive coordinator Clint Bowen found out about Robinson through Ryan Held. Held played football at Blue Valley North and was the head coach at NEO. Last week Held joined the staff at Central Florida.
During the visit Robinson got to spend more time around Bowen and the staff.
"He (Bowen) knew about me early and started recruiting me," Robinson said. "It was good to be around him and all of the coaches. They all seemed like cool dudes."
True freshman Denzel Feaster was the host to Robinson over the weekend.
"The players were great and they made me feel at home," Robinson said. "I felt like I was already part of it. They made me feel like I had already been there before. They were just telling me everything I needed to know and the ins and out of being a player. They told me when I come there the coaches are going to push you but that is the part of the game that will make you better."
The Jayhawks finished up the first year under Beaty in what everyone knew was going to be a rebuilding year. Robinson admitted he rarely got the feeling the program had a losing season during the visit.
"Everybody was real positive," he said. "It was almost like they were winning. Nobody really showed that they had a rough season and they didn't have anything bad to say."
Robinson has been clocked in the 4.4 range and played multiple positions for NEO. He said the Kansas coaches said he is being recruited as an athlete who could see action on offense, defense, and special teams.
He took an official visit to Tennessee last weekend. He will be eligible to leave NEO after the semester and be in Lawrence for spring football. Robinson will have four years to play three on the field.