Secondary needs game experience, players have to make plays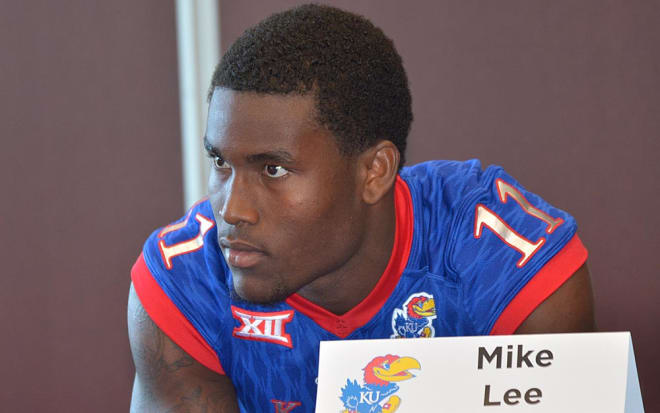 The Jayhawks defense went into the season with high hopes. They had key starters back in certain spots along the front seven and Mike Lee had a year of experience under his belt.
What wasn't recognized in the preseason was the loss of four starters in the secondary who played a lot of football. It took some time for that group to come together and now they are gone, leaving new and inexperienced players to fill those roles.
Last year Lee made Freshman All-America lists and he will be one of the first to admit playing with veteran players helped him in his first season. Gone from last year's secondary are Fish Smithson, Brandon Stewart, Marnez Ogletree, and Tevin Shaw.
"That was a lot of experience," Lee said of the graduated players. "Now they're gone and we have newcomers. We have to gain the experience by playing. We have to learn each other and come closer in practice. We all need to be on the same page and we will be. It just takes time."
Kansas fans will remember when Ogletree and Stewart transferred in from the junior college ranks it took them time to adjust to the division one game. After they took some lumps early on they soon learned what it to play in the Big 12.
Now the Jayhawks are in a sense, starting over in the secondary like they did two years ago. Hasan Defense and Shak Taylor have earned starting jobs after joining the program in the spring. Both are junior college transfers just like Ogletree and Stewart.
"As a young defensive backfield we have two cornerbacks who are starting who just came in from junior college," Lee said. "Bryce (Torneden) is starting for the first time at safety. It will take some time for all of us to come closer together and play as one. Once we play more together we can accomplish what we want to do."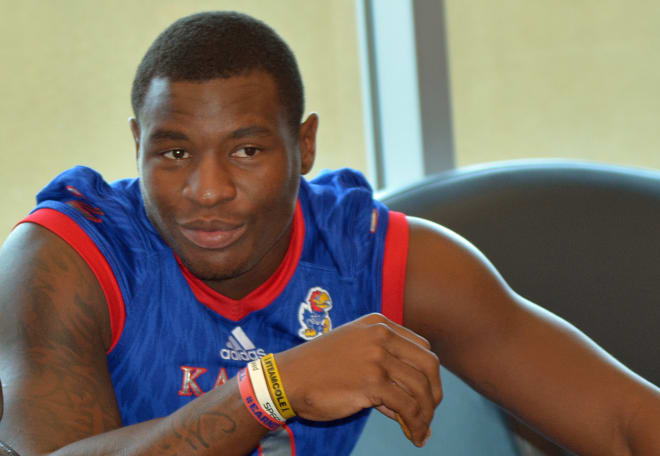 Going into the season the front four was supposed to be a strength up front that would apply pressure to opposing quarterbacks and disrupt plays in the backfield. Three games in, opposing offensive coordinators have put together good game plans to negate their speed and strength.
They have used two blockers to slow down defensive end Dorance Armstrong. When they haven't double-teamed him an offensive guard has been waiting to help if the tackle can't handle him.
"I expected it last year but now I am definitely seeing them," Armstrong said of the double-teams. "It is a chance to learn and see it more to get a feel for it."
On some plays it looks like Armstrong has beat the tackle and before you know it a guard is waiting to help out.
"I've always wanted to know where does that guy come from," Armstrong said with a laugh. "I have noticed it a lot."
Going into Big 12 play no defensive end has been credited with a sack. With so much attention put on Armstrong he believes they will find a way to get pressure on the quarterback.
"I believe my teammates can win the one-on-one battle," Armstrong said. "There has been a lot of attention on me but other guys have a chance to shine and make plays. We're going to get there."
Last week the Jayhawks had chances to get off the field against Ohio on third down. But penalties and missed tackles helped he Bobcats extend drives. Armstrong said they are in the right place in several situations and it comes down to making a play.
"There were plays last week where we had three or four guys miss a tackle," Armstrong said. "Coaches aren't the ones out there playing. It is on us. Our coaches do a good job of explaining everything that we need to know and getting us right for the games. We have to step up and make plays,"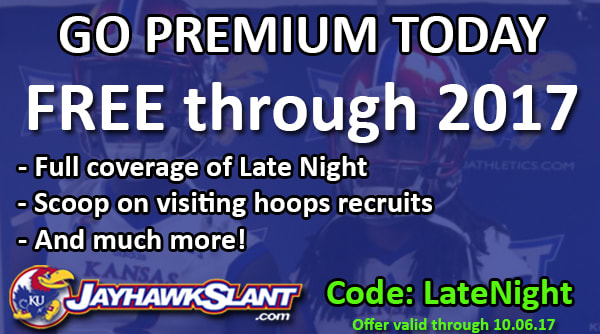 You can now join Jayhawk Slant for FREE until 2018. The offer lasts up until October 6th.
Leading into basketball season you can follow the Jayhawks recruiting in basketball and football. You will get team coverage, analysis, video, photo galleries, and behind-the-scenes recruiting info.
Bill Self and his staff will have several recruits in for Late Night and we will be in the middle of the news.
You also get full access to the premium message boards to discuss Jayhawk sports with thousands of KU-only fans.
It is easy to sign up. All you have to do is pick if you are a returning/registered user or new user.
Please use the CODE: LateNight
RETURNING/REGISTERED USER SIGN UP:
If you are a past member or have registered for a user name you can sign up by going HERE
Remember use the code: LateNight
NEW USERS SIGN UP:
If you are a new user and don't have a user name you can sign up by going HERE
Remember use the code: LateNight