Selby takes over top spot in rankings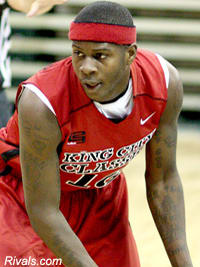 Brandon Knight
's run as top player in the 2010 class has come to an end. Just moments ago,
Rival.com
released its updated class rankings, and
Josh Selby
, the 6-foot-3, 183-pound combo guard from Lake Clifton High School in Baltimore, Md., sits atop the latest Rivals150 rankings.
Shortly after Josh Selby committed to Kansas during the Jordan Brand All-American game, Jerry Meyer, Rivals.com National Basketball Recruiting Analyst, spoke to Jayhawk Slant about the type of impact Selby will potentially have at Kansas,
"I think the spot is there for him to take over the point guard position," said Meyer. "I think Josh and
Tyshawn Taylor
can be a really dynamic backcourt together. I think Kansas fans are going to have a great time watching him play.
"He's a great competitor and he's got a lot of flash and flair to his game," he added. "I think Josh is a winner. Oh yes, he's plenty ready to step in right away at Kansas."
When it comes to scoring, rebounding, dropping dimes and playing at the highest level, Selby, the top-ranked point guard in the 2010 class, in a class all by himself. However, when breaking down his game, what stands out most about the elite difference maker?
"He's the best player at making tough shots in the class," said Meyer. "He's got a Gilbert Arenas type of ability - he can make tough shots in one-on-one situations. He also has a great feel for distributing the ball.
"He isn't just a gunner," he added. "Then, to top it all off, I think he's a great competitor. I just think he has incredible toughness."
Josh Selby Scouting Report -- A combo guard, Selby is a dynamic playmaker who specializes in knocking down tough shots. At times he can get out of control and force shots, but there is no denying his ability to create something out of nothing. Although he has a scorers mentality, Selby also has the ability to creative scoring opportunities for teammates and is a strong on the ball defender. - Jerry Meyer of Rivals.com