Signing Day Surprise: Jayhawks land nation's top juco RB
It has been years since Kansas had unexpected fireworks on signing day but that all changed just minutes ago.
In a signing day surprise, Octavius Matthews the nation's top junior college running back according to the Rivals Juco 100, confirmed he inked with the Jayhawks.
Matthews said he woke up on signing day and realized Kansas was the place he wanted to be.
"When I went on that visit to Kansas I felt like it could be the place for me and my family," Matthews said. "And I felt it would be the best place for me to try to get to the league. I also felt they could help me get a good degree."
Matthews visited Kansas last November along with his junior college teammate Peyton Bender. Bender signed with Kansas and is currently on campus. After the official visit Matthews stayed quiet about his recruiting and kept his commitment to Auburn.
Last week Matthews took to Twitter and announced he was de-committing from Auburn. He listed three schools: Kansas, Tennessee, and Purdue in his announcement. But he stayed low-key after he de-committed and didn't do any interviews.
He had several conversations with his mother Kristy Branford about the recruiting process and looked to her for advice.
This morning after it looked like the class was finalized the Kansas coaches got late word of Matthews decision.
"When I let them know this morning that I was signing with them they were very excited," Matthews said.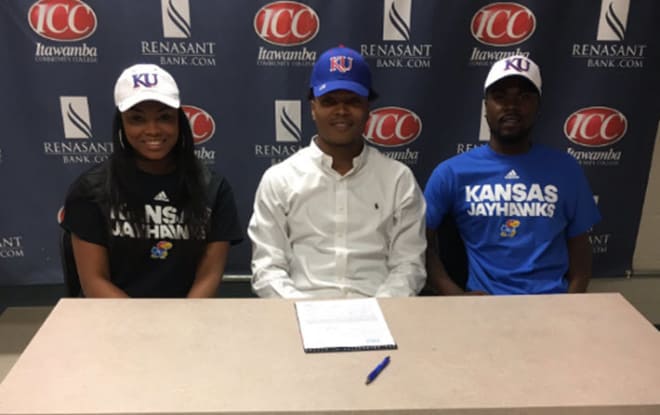 Over the last couple weeks Matthews has stayed in touch with Bender since the quarterback arrived on campus.
"Peyton told me he thought it would be the best fit for me," Matthews said. "We were next to each other in the backfield in junior college and he said we could do the same things at KU."
The Kansas staff made a push at Matthews leading up to his November visit. They liked what they saw from him after evaluating Bender on film. Kansas grad assistant Micah Davis saw Matthews and pointed him out to the staff.
The coaches told Matthews they planned to move him around and get him the ball in open space.
"They said they like my versatility and how I can catch the ball out of the backfield," Matthews said. "They said they could even move me to slot receiver and do things to get the ball to me in the open field. They know what I can do once I get it."
Matthews said he felt a good connection with the Jayhawk coaches although he stayed committed to Auburn. During his official visit he was also impressed with the new facilities.
"I went on three visits this year and KU's was the best facility wise," he said. "In my opinion they were better than Auburn and Purdue."
This marks the end to a long recruiting road from high school to junior college and fulfills his dream of playing division one football.
"It is a dream come true," Matthews said. "I've always wanted to do the deal were they pick up the hat and put it on. But I'm very happy I am finally going to a division one school."