Silvio De Sousa talks about signing with Kansas on Monday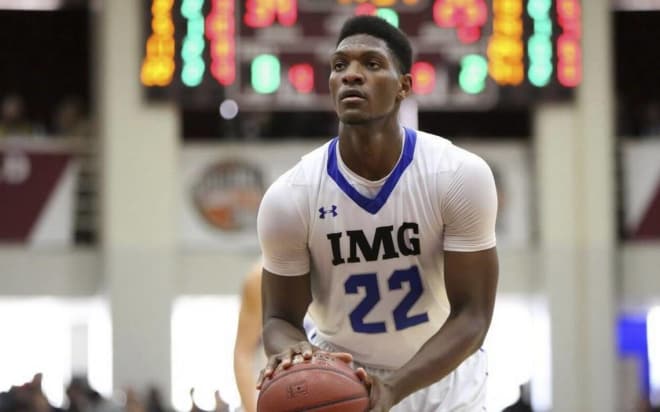 Silvio De Sousa, the No. 25 ranked player in the 2018 class, became an official member of KU's 2018 recruiting class earlier today by signing a National Letter-of-Intent.
On Monday afternoon, Silvio De Sousa, the 6-foot-9, 220-pound power forward from IMG Academy in Bradenton, Fla., saw his verbal commitment to Kansas become official by signing a National Letter-of-Intent with Bill Self and the Jayhawks.
Throughout his recruitment, De Sousa, a five-star prospect, received serious interest from the likes of Kansas, Florida, Illinois, Kentucky, Louisville, Maryland, North Carolina, Syracuse and others. Following an official visit to Kansas, which took place the weekend of August 25, most expected De Sousa to officially visit Maryland before reaching a final decision.
However, De Sousa, not long after his official visit to Kansas, verbally committed to the Jayhawks.
On Monday afternoon, Bill Self talked about the talented big man, who hails from Luanda, Angola.
"He has great size for a true four-type man," Self said. "He's very explosive and at one time, a couple years ago, was rated a top-five player in his class. Not participating in the summer grassroots stuff as much over the past year, his rankings have dropped a little bit, but we feel like he's a top-five talent."
De Sousa, during his junior season at IMG Academy, averaged 13.0 points, 7.0 rebounds per game and shot 61 percent from the floor. IMG finished the season with a record of 28-2 and lost in the quarterfinals of the Dick's High School National Championship.
This past spring and summer, De Sousa averaged 20.5 points and 8.2 rebounds per game on the Under Armour Association Circuit with the Florida Vipers AAU program. At the conclusion of the AAU Circuit, he left for the U19 World Cup in July with Angola.
De Sousa, during the World Cup, averaged 17.3 points and 13.1 rebounds per game – including 19 points and five rebounds against the USA U19 team.
Additionally, De Sousa was named MVP of the U18 Africa Championship in the summer of 2016.
Now an official member of KU's 2018 recruiting class, De Sousa, during a phone interview with JayhawkSlant.com just minutes ago, talked about his signing day experience.
"I mean, it's a pretty good feeling," said Silvio De Sousa when talking about signing a National Letter-of-Intent with Kansas. It's amazing to sign with a school you like. I've kind of been working on my game, doing it all my life, just to get to know where I'm going (to play) at this level. It's a great day.
"I fell in love with the school," he added when asked why he committed to Kansas after just one visit. "To be honest, I think me and the school were alike (matches). I didn't want to be the type of guy to just go to four or five different schools to visit when you already know where to go. Once I got there, it was amazing. In short answer, I would say that Kansas is the best place for me."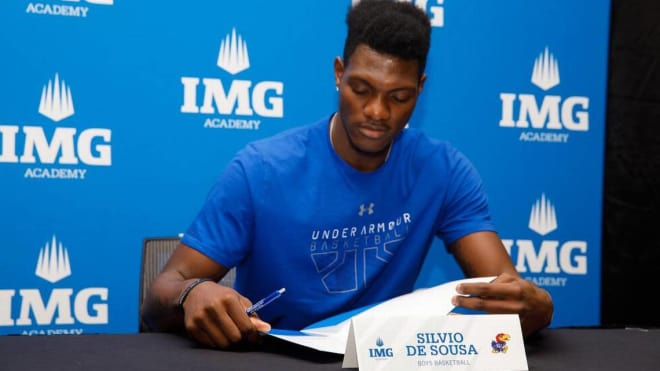 When De Sousa arrived for his official visit to Kansas back in August, not many, if any at all, expected the elite prospect to offer up a verbal commitment at the conclusion of his one and only official visit.
If anything, the belief at the time was De Sousa would take one final visit to Maryland before reaching a final decision. Instead of spending a weekend in College Park, De Sousa opted to put an end to his recruitment.
On Monday evening, De Sousa told JayhawkSlant.com that, heading into his visit to Kansas, the Jayhawks were one of the biggest schools on his list. It sounds like Kansas, going into the visit, was the team to beat for one of the nations top prospects in the 2018 class.
"Even before I went to visit Kansas, it was always one of my biggest schools on my school list," said De Sousa. "It's always been my top one. It's like my dream school. I decided to make my dream come true. My dad is also a big fan of Kansas. My dad was a great basketball (International player overseas).
"He (my dad) knows everything about basketball," he added. "That's why he likes to watch Kansas play."
From the very beginning of his recruitment, Coach Bill Self, Coach Kurtis Townsend and the entire staff made Silvio De Sousa a top priority. As it turned out, getting him on campus first couldn't have played out any better for Kansas.
Not only did De Sousa commit, but did so without taking any additional visits. When he arrived in Lawrence for his visit, it was everything he thought it would be, and so much more. De Sousa, from the moment he arrived in Lawrence, was sold on playing for Kansas.
"Coach Self and KT (Coach Kurtis Townsend) are my guys," he said with a laugh. "They showed me some type of love that I've never seen before. To be honest, when Coach Self is so friendly to you off the court, he is the type of coach that is going to go hard on you in practice and games.
"I know that they are good off the court and on the court, so that's why I like both of them," he added. "They are just very good people."
Currently, KU's 2018 recruiting class consists of five-star point guard Devon Dotson, the No. 17 ranked player, five-star power forward Silvio De Sousa, the No. 25 ranked player and David McCormack, the No. 33 ranked player.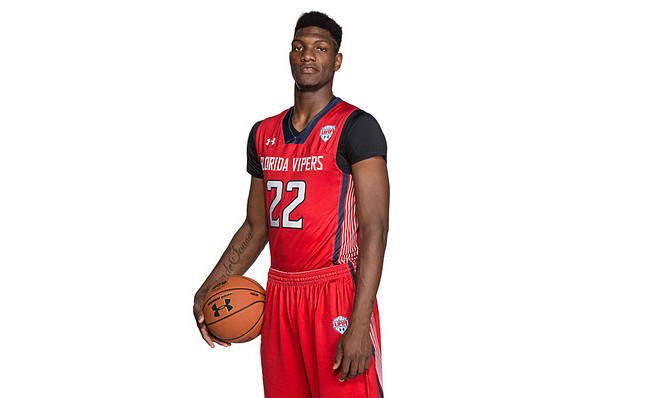 With the end of the early signing period approaching, Kansas could potentially add one final piece to the early signing period puzzle, as Quentin Grimes, the 6-foot-5, 180-pound guard from College Park High School in The Woodlands, Texas will announce his final decision on Wednesday.
Grimes, the No. 11 ranked player in the 2018 class, is down Kansas, Texas, Kentucky, and Marquette.
While the future in Lawrence certainly looks bright, today is all about Silvio De Sousa. There's no doubt that, whenever he ultimately steps foot on KU's campus, he should provide an immediate imapact.
Shortly after De Sousa verbally committed to Kansas, JayhawkSlant.com caught up with Eric Bossi, Rivals.com national analyst, to get his thoughts on KU's first commit in the 2018 class.
"As I posted on the message board, all indications were that Kansas had done really great with the visit and they were going to be tough to beat," said Bossi. "There are some pretty strong relationships with Maryland and with Bruno Fernando at Maryland and sharing the same guardian, so I really thought Maryland would get a visit.
"But, you know, better for Kansas to not even have to worry about Silvio taking a visit to Maryland," he added. "
According to Bossi, Kansas is getting a player that should provide an immediate impact next year.
"There's period of adjustment for all but a few players coming to college, but what Silvio has going for him is, he's college ready strength wise and he's got an incredible motor on him. He's a little bit raw from a skills standpoint, he just plays so hard and when you combine that with his athleticism, he's able to get a lot of stuff done.
"He's a guy that I think Bill Self and his staff are going to really enjoy coaching," he added. "I think that he's got the kind of makeup, mentally, that they really want out of a big guy. The big thing for Silvio is learning to play the game in a way where he's not reliant on being physically dominant and being able to overpower guys. He needs to improve his anticipation and feel for the game and things like that."