Sternberger will focus on TE at Kansas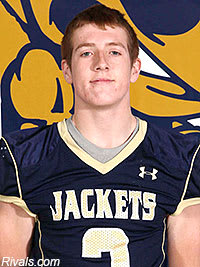 Jace Sternberger was one of the first offers for David Beaty when he took over at Kansas. Sternberger's high school film looked good on offense and defense. Some college coaches recruited him for defense but Sternberger cleared the air and said he will be a tight end at Kansas.
The 6-foot-4, 225-pound tight end from Kingfisher (OK) chose the Jayhawks over offers from New Mexico, Sam Houston State, South Dakota, and Tulsa. The main reason was first-year head coach David Beaty.
"Everything was really stressful, going through that," Sternberger said of his experiences. "Everybody has a different process. For me, mine was really a slower process at first. I never did hear from Kansas. After Coach Beaty got hired, I heard from him the very next day. That's when it got going. After I visited, I committed that very next day, and it was all golden."
The Sooner State product talked about how his connection with the former Texas A&M assistant stemmed from a mindset he developed during his time with Yellowjackets head coach Jeff Myers.
"It kind of came from how coach was my last four years of high school," Sternberger said of Myers. "We always talked about how you want to surround yourself with people that share the same goals as you. Once I met Coach Beaty, and we had our lunch and talked, I knew I needed to be around this man. I knew it was the right choice once he offered."
A two-way standout in high school, Sternberger played both TE and defensive line at Kingfisher. At defensive end, he racked up 53 tackles, 23 tackles for loss, and 21 sacks as a senior. After logging 42 receptions for 390 yards and eight touchdowns in 2014, he said he will play offense for the Jayhawks.
"It's funny," the 2015 signee said. "Everybody still calls me a defensive end, but I'm 100-percent tight end. Me and coach Beaty and coach Likens have a great relationship. Coach Hyman covers the Oklahoma area for recruiting, and we always stayed in-touch."
Sternberger said he and tight ends coach Gary Hyman discussed how he will fit into the Jayhawks air-raid offense before he reported in June. Despite the pass-heavy nature of offensive coordinator Rob Likens' system, the freshman said he will be called on to do more than just catch the ball.
"We talked about where, if I pushed myself to be in the best shape, speed, strength, and mental-wise, I should be able to get the job done both ways," he said. "They said I need to push myself where I'm strong enough, and fast enough, where if I need to be attached tight end, or if I need to split-out and run a route, I need to be able to do both. They've said it's up to me if I push myself."
In addition to the primer on Likens' offense, Sternberger received a workout program from Kansas before he reported. Much like the rest of the 2015 class, the big tight end was focused on being ready for his arrival on Mount Oread.
"Once basketball was over, I weighed before I started the six-week program," Sternberger said of Jackson's program. "I was at 216-pounds. Coach Beaty had said he would really appreciate me getting to 225 before I got to campus. My dad said I should take a week off before I started the first six weeks. I said, 'No, I've got to get to work.'"
"A little bit was out of my comfort zone," he continued. "But I'm fortunate. We have a really good weight program. I kept telling myself this was pretty mild compared to what it would be at KU. I always tried to push myself to go faster, and a little heavier, on all my sets."
Sternberger has gotten a head-start on building relationships with his future quarterbacks. With Ryan Willis and Carter Stanley both inking with the Jayhawks in Beaty's first signing class, the Kingfisher product will be spending a lot of time with the two trigger men over the next few years.
"Me and Ryan, we went on our official visit together," Sternberger said of Willis. "Ben Johnson was our host. We caught up on our visit, and again at the spring game. Carter, we've gotten to know each other online, and he's my roommate. We haven't really gotten to talk football much, just really getting to know each other."
With Johnson and Kent Taylor at tight end the Jayhawks appear to have good quality at that position. It should give Sternberger the chance to learn the system from both of them.
As he's gotten to know the Jayhawk fanbase, Sternberger has been impressed with the response since National Signing Day. The support he's gotten back home, however, came as something of a surprise.
"In Kansas, it's been nothing but appreciation and good luck," he said. "Being in Oklahoma, you never really hear about Kansas. I went up there three times, and I fell more in love with it every time. It feels like home. All my friends and people from other towns, they've fallen into it. It's pretty cool, seeing how many Oklahoma fans are KU fans."
Before he left for Lawrence, Sternberger talked about what it will take to turn the program around at KU. Undaunted by the challenge, he said he was ready to get started.
"I feel like this is a great opportunity," Sternberger said. "Not just for me, but for everybody on the whole team, to try and make an impact and make a change. It's going to be a lot of hard work, but I think it will be awesome."