Thomas MacVittie was sold on Les Miles, Chip Lindsey
When Chip Lindsey took the job as the offensive coordinator at Kansas, he had to quickly identify quarterback targets. It didn't take him long to zero in on Thomas MacVittie, a quarterback at Mesa Community College.
Lindsey had a good relationship with Ryan Felker the head coach at Mesa. After a phone call and a visit to Arizona, Lindsey convinced MacVittie to take an official to Kansas.
College coaches will tell you the current players can be the best recruiters on an official visit and that's what happened with MacVittie. He had a chance to visit with Kansas offensive lineman Kevin Feder, who transferred from Ohio State.
MacVittie will take a similar path after starting his career at the University of Pittsburgh.
"I stayed with Kevin Feder and talked to him throughout the weekend," MacVittie said. "It opened my eyes to the opportunity I could have at Kansas. He was at Ohio State before Kansas and I could relate to being at another school and transferring like he did.
"He was honest with the process and after leaving I knew I'd be in good hands and almost committed on the spot."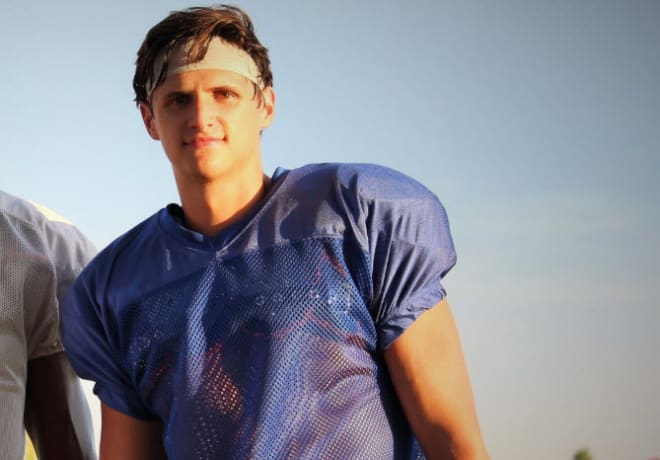 MacVittie went home and took a couple days to think about his recruiting and then made the call to Lindsey and Les Miles to tell them he was ready to be a Jayhawk.
"My impression with Coach Miles is I was excited to meet such a legendary coach," he said. "He sincerely cares for the guys he has on his team and his staff. I knew I would be in good hands being in his program."
Lindsey talked with MacVittie about some of the quarterbacks he worked with in the past. At Southern Miss Lindsey developed quarterback Nick Mullens into the Conference USA Player of the Year. At Auburn he worked with Jarrett Stidham.
"With Coach Lindsey his track record with Stidham and Mullens was all I needed to hear," MacVittie said. "I knew he would get me where I wanted to be and the offense he runs fits my style perfectly. I'm excited to learn from him and perfect my craft."
MacVittie didn't know what to expect going into his visit to Kansas. It ended up exceeding all expectations. At 6-foot-5, 220 pounds he has the ability to be a dual-threat quarterback and shows good mobility on film.
"After my official visit I was very high on Kansas," he said. "It was higher than I expected. They told me they liked how strong my arm was, my mobility and the way I played. They liked my size and a big thing was my running ability."
MacVittie plans to sign with Kansas on Wednesday and will report in January. He will be on campus early to participate in spring football.
"I'm excited about Kansas and what the University has to offer," he said. "I wish January 22 was next week."