Williams continues pipeline from Louisiana to Kansas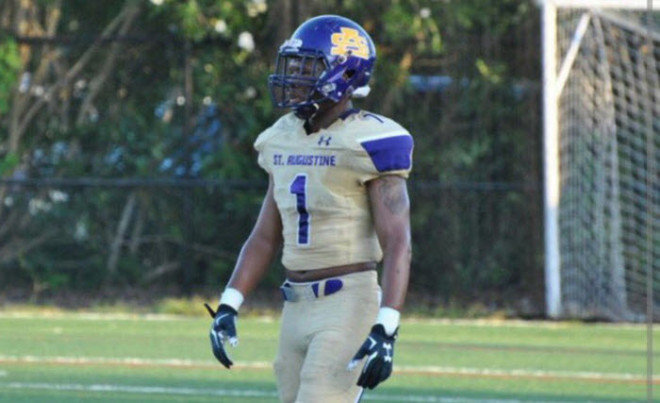 The Jayhawks targeted Takulve Williams early in the year. He was one of the first wide receivers to get an offer from Kansas for the 2017 class. On Tuesday afternoon the wide receiver from St. Augustine (Louisiana) gave the Jayhawks a verbal commitment.
He called Kansas head coach David Beaty and told him the news.
"He was excited," Williams said. "He said he was doing back flips. He used to coach at Texas A&M and coached Mike Evans. He said they can get the ball in my hands in the offense they run."
Williams said one of the key reasons he chose Kansas was the relationship he built with assistant Tony Hull. Hull was hired just before spring football after coaching at Warren Easton in Louisiana.
"I built a good relationship with coach Hull," Williams said. "The way he recruited me stood out. I have talked to other recruiters but he is from Louisiana and knows where I come from. He was a big reason I committed."
Along with athlete Travis Jordan, Williams becomes the second wide receiver from Louisiana to pick Kansas.
"They are really looking in Louisiana for guys," Williams said. "Coach Hull is a cool dude and I have enjoyed getting to know him. Everybody down here knows about him and he was big in my recruiting."
During the recruiting process Williams also got to know Tony Phillips who has recruited Louisiana in the past.
"Ever since they offered me three months ago they have always stayed in touch with me," Williams said of the Kansas coaches. "I have talked with coach Phillips several times. He always seemed excited to talk to me and wanted me to be a part of his wide receiver group."
Williams plans to visit Lawrence in the next few weeks. He believes what the coaches have told him about their program and wants to be a part of it.
"I'm excited and I can't wait to get there and be part of the program," he said. "I think they are building something special and I want to be a part of it."