Yenser knows building an OL takes patience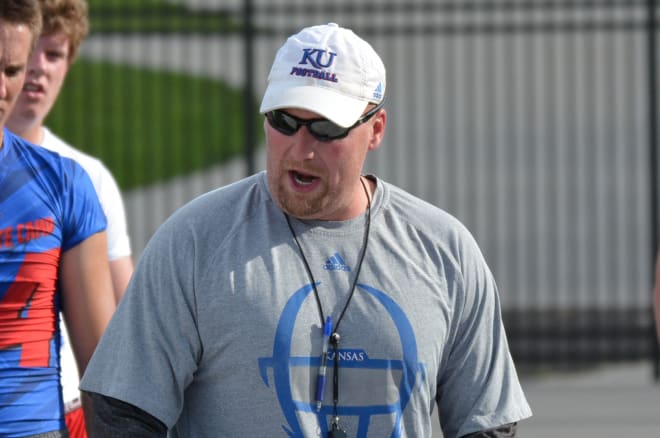 When you talk to Zach Yenser about the patience it takes to build an offensive line he always seems in control about it. Some coaches would show more frustration or not be as calm about trying to build a unit.
Here is the thing with Yenser…. he has been through this year three times in six years.
In 2010 Yenser was part of the offensive line coaching staff at Louisiana Tech when they started four sophomores on the offensive line. In 2011 all four linemen started every game as juniors. By the time they were seniors they were part of a group that led the NCAA in scoring and one of the top five offenses of all-time.
In 2013 Yenser left Cal when Sonny Dykes got the head coaching job. That season Cal started four freshmen on the offensive line and the Bears won just one game. In 2014 with all of the linemen returning they won five games.
The next season Yenser took a job with the Jayhawks. The offensive line he helped build at Cal that year won eight games including a win in their bowl game.
When Yenser keeps a consistent theme about getting through the growing pains with the Kansas line he isn't panicking because he has been through this before.
The good news is he hopes to start the group of linemen as last game.
"As of right now we're going to play the same five guys that we did in the Texas Tech game," he said. "Hopefully we can start building some comradery. I think it is a big trust factor with those guys up there. We ran the same five back out and practice yesterday and plan on doing the same thing."
With the news of Jordan Shelley-Smith ending his career at Kansas due to concussions there are two players on the roster that Yenser inherited. Joe Gibson, a walk on from Rockhurst, and Jacob Bragg, a redshirt sophomore are the only linemen left of the current roster who were at Kansas when Yenser arrived.
The good news for the offensive line is they return 15 players next year and 13 of them come back in 2018.
"That's a big part of playing offensive line is knowing and trusting the guy you are playing next to," Yenser said. "Any good offensive line that I've been a part of whether it was a player or coach (had experience). Like when I was at Louisiana Tech we started four sophomores and two years later those guys had played three years together. That's why we were good up front because we had four seniors that had played together."