After his mother's death, Bradford got back into coaching
Bradford got out of coaching to help his family. After a successful start in the oil business he is glad to be back in coaching.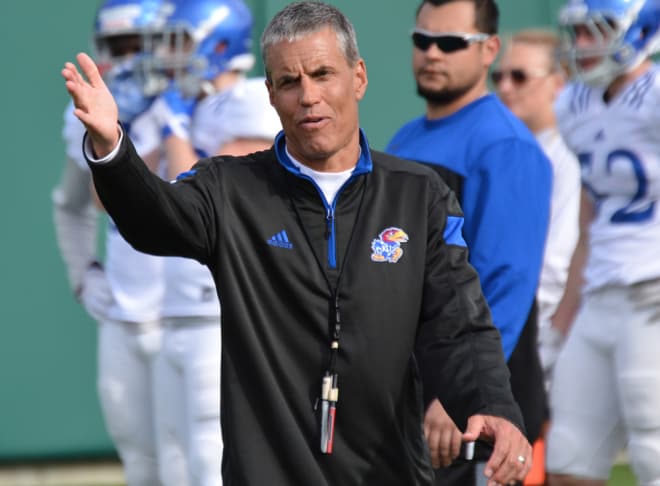 Todd Bradford knew the timing was right to start his coaching career again.
Bradford has 25 years of coaching experience that included stops at Louisiana Tech, Wisconsin, Middle Tennessee, BYU, Oklahoma State, Southern Miss, and Maryland along with others. He has been an offensive coordinator and defensive coordinator at the division one level.
But he had to put his career on hold after his last position as the defensive coordinator at Maryland in 2012.
Bradford was the defensive coordinator at Southern Miss and joined the Terrapins who were in the ACC at the time. When he was at Maryland the health of his mother started to deteriorate.
"My mom got sick when I was at Southern Miss," Bradford said. "She was declining when I took the job at Maryland. After that I decided to go home and help her, and really help my dad."
So Bradford packed up and moved to be close and care for his family.
During his time off a good friend decided to get in the oil business. Bradford knew him because he was his neighbor when he was the offensive coordinator at BYU. Since Bradford could travel and still see his parents he took on a new adventure.
The oil company was a start-up business and Bradford was the president. He helped the company a couple years later go from zero dollars to $65 million in sales.
"A friend started a company in the oil field in North Dakota," Bradford said. "He said, 'hey come help me try to get this thing going and see how it goes.' I was the president so I was able to still travel and still needed to do what I had to do with my mom."
Bradford compared his job in the oil industry to coaching. He said he had a lot of young people working for him.
In the back of his mind Bradford knew he would get back into coaching. Yet the timing would have to be right.
Near the end of last year his mother checked into the hospital with acute myeloid leukemia. One day he was driving to visit her and Kansas head coach David Beaty called.
"He asked me how she was doing and if I was ever interested in getting back into coaching," he said. "My mother ended up passing away about two days after I first talked with coach Beaty. For my mom it was time. We had grieved for months before she finally passed away."
This was a sign to Bradford the timing was right.
"I knew when David called if we can time this right I am ready to go," he said.
Bradford had positive thoughts and images of the Kansas football program. He was at Oklahoma State when the Jayhawks won three bowl games in four years. Then he was the defensive coordinator at Southern Miss when they almost upset Kansas in 2009. The Jayhawks were ranked in the Top 25 and won a close game that went deep in the fourth quarter.
"My image of Kansas are those days," Bradford said. "I recruited against Kansas when they would offer a recruit that I was on and I thought, 'okay you better buckle up because this is going to be a battle.' I think we have a lot of the things in place here to be like that. That's one of the reasons I was so excited when David called me."
When you watch Bradford on the practice field working with the linebackers he has a lot of energy. He didn't take long to shake the rust off and admits he is enjoying his return to coaching.
"It has been the most fun time in my coaching career that I can remember," he said. "I have coached a long time. It has been the most fun spring that I have had. I can't wait to get out to practice every day and see the kids. I can't wait to get to the meetings."
Bradford remembers making the trips to Lawrence in 2007 and 2009 to play against the Jayhawks when the program won a lot more than they lost. He believes the program can get back to those days.
"I am happy to be at a place like Kansas where I think we can win games and win in recruiting," he said. "I have been here when you couldn't get a seat. It was a great place to play and I am sure we can do that again."