Kansas lands Lance Legendre, one of nation's top quarterbacks
The Jayhawks are officially on the board in the 2019 class with their first commitment and it is a big one. The Kansas staff has landed Lance Legendre, one of the top dual-threat quarterbacks in the country.
Legendre is from Warren Easton High in New Orleans where Kansas assistant Tony Hull used to be the head coach.
"He's a good guy and obviously a good recruiter," Legendre said. "He's bringing a lot of guys from the Boot and he's doing a lot of good things. When I was in the eighth grade he helped me get into Warren Easton. So we've had a good relationship since then and he's a great guy."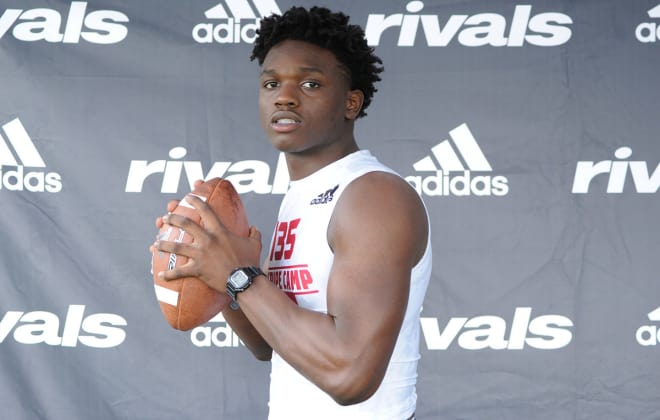 Last weekend Legendre was one of the standouts at the Rivals Camp Series in Mobile. He is also coming off the latest ranking where he moved to the nation's eighth-rated, dual-threat quarterback in the nation. So it wasn't a surprise the Kansas coaches were happy to have Legendre as their first commitment for 2019 when he called them.
He informed Hull and Kansas head coach David Beaty of his decision on Monday morning.
"They were very excited about it," Legendre said. "They were pretty fired up. They told me I can come in and we can all do some great things and build on it from there."
Legendre said he liked the family atmosphere after being around the program during his unofficial visit earlier this month. On his visit he spent time around several players from the New Orleans area including Mike Lee and Corione Harris. Both were four-star recruits when they signed with the Jayhawks.
"I know Mike Lee was a defensive back at Landry Walker and I played against Corione last year when he was at Landry Walker," Legendre said. "I asked them to be 100% and be real with me. I didn't want to hear things just to get me there. We're like brothers and family all trying to reach the same goals. They told me they liked it a lot there (at KU) and different things about their experience."
Legendre has taken unofficial visits to others schools and holds offers from Alabama, Tennessee, Missouri, Oklahoma State, Kentucky and many others. He had a good feel about the Kansas program and that was one reason he chose them over several big name programs.
"I believe I can go there and help change it around," he said. "I think I can help bring the Jayhawks to a championship. I believe that. I believe that if we stick together and all of the players from the Boot I think we have a chance to do something special. I knew guys that went there already and I could feel the vibe."
Holding 16 scholarship offers making an early choice wasn't easy. Legendre thought things through and felt he was ready to make his decision.
"It is exciting," he said. "It's a big moment and I had to sit down and make the decision. It wasn't easy but I'm doing what's best for me."
Legendre is the highest-rated quarterback to give the Jayhawks a commitment since Rivals recorded rankings in 1999.