Player Profile: Pooka Williams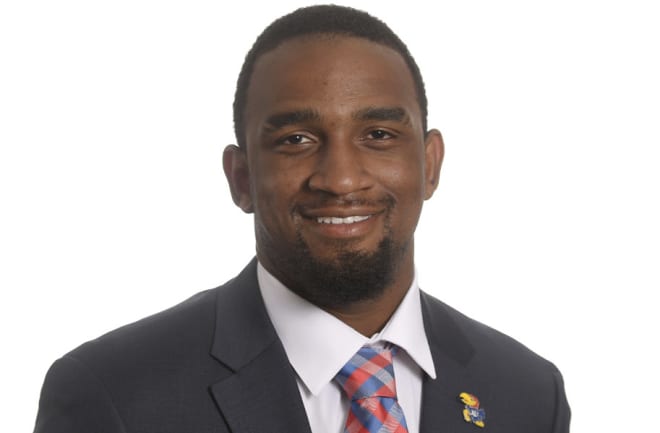 #1 Pooka Williams
Position: Running back
Height: 5-10
Weight: 170
Class: Junior
Hometown: Boutte, La
High School: Hahnville
Career Honors: 2019: First Team All-Big 12 (AP); First Team All-Big 12; Preseason All-Big 12 First Team (Athlon). 2018: Freshman All-America all purpose (FWAA, The Athletic); All-America Second Team all-purpose (FWAA); Big 12 Offensive Freshman of the Year (coaches); All-Big 12 First Team running back (coaches); All-Big 12 First Team all purpose (coaches, AP); Big 12 Newcomer of the Year (AP); All-Big 12 Second Team running back (AP); Big 12 Newcomer of the Week (Nov. 19); Big 12 Newcomer of the Week (Oct. 29); Paul Hornung Award Honor Roll (Oct. 29); Midseason True Freshman of the Year by The Athletic; ESPN Midseason Freshman All-American; Big 12 Co-Newcomer of the Week (Oct. 1); ESPN True Freshman of the Week (Sept. 10); Big 12 Newcomer of the Week (Sept. 10).
2019 (So.): Coastal Carolina: Made his season debut against the Chanticleers … Carried the ball a career-high 22 times for a total of 99 yards … Also caught two passes from quarterback Carter Stanley for 10 yards total, with a long catch of seven yards … at Boston College: Matched his career high with 22 carries in Chestnut Hill … Gained a total of 121 yards on the night, the fifth 100+ yards game of his Kansas career … Also caught a pair of passes for two yards … West Virginia: Led the Jayhawks on the ground, carrying the ball 15 times for a net gain of 76 yards … at TCU: Made his first receiving touchdown of the season when connecting with quarterback Carter Stanley for a 25-yard catch late in the fourth quarter … On the day, hauled in three catches for a total of 33 yards … Also carried the ball eight times for a net gain of 12 yards … Oklahoma: Gained 137 net yards on the ground with a new career-high 23 carries for the Crimson and Blue … His long rush was good for 36 yards and he averaged 6.0 yards per carry on the afternoon … Also caught five passes for a total of 20 yards … Led the Jayhawks in all-purpose yards against the Sooners with 157 … at Texas: Broke off a season-long 65-yard rush in the first quarter … Ran to his seventh-career 100-yard rushing game … Set a new season high with 190 yards rushing on a new career-high 25 carries … Williams' 190 yards on the ground moved him into the top-20 in career rushing yards at Kansas, as he now sits in 16th place on the all-time list with 1,760 yards, a mere two yards behind Arnold Snell's 1,762 for 15th place, surpassing Delvin Williams, Donnie Shanklin, Tony Pierson, Nolan Cromwell and Khalil Herbert in the process … Texas Tech: Ran the ball 21 times for a net of 69 yards on the ground in KU's Homecoming victory … Also caught two passes from quarterback Carter Stanley for 24 total yards, with a long catch of 14 yards on the night … Kansas State: Accumulated 61 yards on 14 carries against the Wildcats … Also caught one pass, good for a gain of 17 yards … at Oklahoma State: His 26 net yards on a dozen carries moved him into 13th place on Kansas' career rushing yards list with 1,916 total … He bypassed Charlie Hoag, who ran for 1,914 yards in his Jayhawk career from 1950-52 … Caught one pass for six yards … Recorded two solo tackles against the Cowboys in Stillwater … at Iowa State: Surpassed the 2,000-yard mark for his KU career with a 48-yard gain in the second quarter, which made him the first KU football player to 2,000 career rushing yards in his first two seasons since Gale Sayers (1962-63) … For the afternoon, carried the ball 19 times for a total of 154 yards, which brought his career total as a Jayhawk to 2,070 yards with the game next Saturday against Baylor (Nov. 30) left to be played this season … Williams' 33-yard carry with 1:36 remaining on the clock in the second quarter of play marked his third 100-plus-yard rushing game of the 2019 season and the eighth of his career, which moved him into a tie for eighth place in number of career rushing-100-yard games with Jake Sharp (2006-09) … Through their first two seasons, Williams and Sayers hold similar stat lines, with Williams carrying the football 342 times for 2,070 yards and 10 touchdowns in 21 career games, while Sayers rushed the ball 290 times for 2,042 yards and 14 touchdowns in 20 career games … Also caught the ball twice for the Jayhawks, accumulating a new season-best in receiving yards with 52 … His long catch of the day, a 27-yarder from quarterback Carter Stanley, got him into the endzone, which broke his season high in longest reception of the year and tied his season best for receiving TDs in a game … Baylor: Carried the ball 21 times for 116 yards against the Bears … Accomplished a feat that has only been done once before in Kansas football history on Senior Day, as he surpassed the 1,000-yard mark in back-to-back seasons, joining James Sims (2012-13) as the only other Jayhawk to rush for 1,000 or more yards in consecutive seasons and the fourth Jayhawk to break 1,000 or more season rushing yards more than once in their KU career … Also caught three passes for 27 yards and made one solo tackle in the Jayhawks' season finale.
2018 (Fr.): Rushed for a total of 1,125 yards on 161 carries, good for 102.3 yards per game, 7.0 yards per carry and seven rushing touchdowns … Added 289 yards and two scores on 33 receptions and 246 yards on 11 kick returns to lead the Big 12 and rank sixth in the FBS in all-purpose yards at 150.9 per game … One of two players in the Big 12 Conference to record a 100-yard rushing game (4) and a 100-yard receiving game (1) joining TCU's Jalen Reagor … Also one of only two players in the league to score a touchdown by way of passing, rushing and receiving in 2018 joining Texas' Lil' Jordan Humphrey … One of just three true freshman in Big 12 history to accomplish the feat … His 1,125 rushing yards tie him for eighth place in KU's single-season history books, ranking him second among Jayhawk freshmen on that list … His 16.8 yards per carry against Oklahoma was both a Big 12 Conference and Kansas record for a game with a minimum of 15 carries … His 1,660 all-purpose yards rank third on KU's single-season list … Tabbed the Big 12 Conference's Newcomer of the Week on four occasions during the 2018 season … One of just two Jayhawk running backs to be tabbed All-Big 12 First Team, joining Jon Cornish (2006) … Also one of just two Kansas returners to earn All-Big 12 First Team accolades, joining Charles Gordon (2005) … At Central Michigan: Made his collegiate debut with a start at running back … Ran for 125 yards and two touchdowns on 14 carries … Also caught one pass for eight yards … Named Big 12 Newcomer of the Week for his efforts … Rutgers: Became the first freshman in KU history to open their career with back-to-back 100-yard rushing games after collecting 158 yards and one TD on 18 carries against the Scarlet Knights … Recorded a then-career-long 52-yard scoring run … Added one reception for five yards … at Baylor: Ran for 89 yards, including a career-long rush of 72 yards … Caught one pass for five yards … Oklahoma State: Rushed for 97 yards and a score on 17 carries … His touchdown run of 60 yards marked his longest scoring rush of his career … Recorded six receptions for 60 yards … at West Virginia: Carried the ball 12 times for 65 yards … Caught three passes for 16 yards … at Texas Tech: Rushed for 81 yards and caught three balls for 26 yards … TCU:Scored two touchdowns off 102 yards receiving on seven receptions … Rushed for 33 yards … Iowa State: Ran the ball 17 times for 58 yards … Reeled in six receptions for 42 yards … at Kansas State: Ran the ball 14 times for 59 yards in his first Sunflower Showdown … at Oklahoma: Earned Big 12 Newcomer of the Week after rushing for 252 yards and two touchdowns, a KU freshman record and sixth all-time in Kansas football history … Had 18 yards receiving on three receptions … Threw his first pass of the season, completing a nine-yard touchdown to Jeremiah Booker … Texas: Rushed for 113 yards on 10 attempts to complete a record-setting freshman season.
High School: Touted as a four-star recruit and the 15th-best player in the state of Louisiana according to ESPN.com ... Rated a three-star recruit, the 11th-best all-purpose back in the country and the 16th-rated player in the state of Louisiana by Rivals.com ... Also a three-star player according to 247Sports.com ... Played for head coach Dominic Saltaformaggio at Hahnville HS ... Led HHS to the Louisiana Class 5A state title game, rushing for 210 yards and a touchdown, against Zachary HS ... Registered 3,118 rushing yards with 37 touchdowns as a senior ... Collected nearly 1,400 yards and 14 scores in Hahnville's five-game playoff run ... Selected as the Louisiana Farm Bureau Insurance/Louisiana Sports Writers Association Mr. Football for the 2017 season ... Named New Orleans Metro Player of the Year by the Greater New Orleans Sports Foundation Quarterback Club ... Earned a spot on the New Orleans Times-Picayune 2017-18 All-Metro Top 25 Male Athletes of the Year list.
Personal: Son of Angelique and Anthony Williams Sr. ... Full name is Anthony Williams Jr. ... Plans to major in sport management ... Chose Kansas over offers from LSU, Mississippi State, Memphis, Nebraska, TCU, UCLA, Tulane and Louisiana Tech.