Twitter Tuesday: R.J. Hampton, Armando Bacot, Jalen Green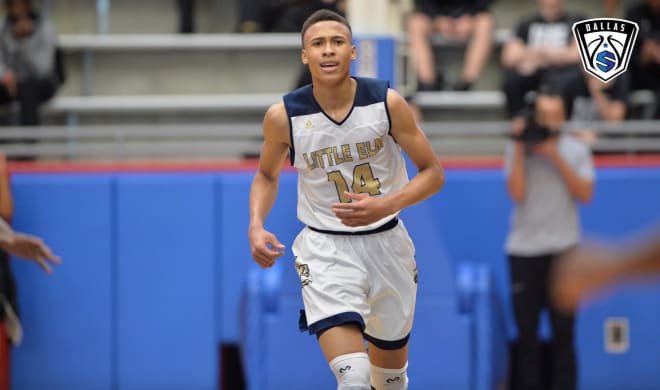 You're fairly accurate with your assessment. I just do not see R.J..Hampton committing to Duke or Kentucky which makes his recruitment a battle between Kansas and Memphis.
Which program offers the better fit between the Jayhawks and Tigers? Let's investigate.
Kansas will likely return Devon Dotson at the point guard spot, Marcus Garrett on the wings, and maybe Quentin Grimes. Issac McBride and Christian Braun will also enroll. Memphis returns lead guards Tyler Harris and Alex Lomax, while enrolling Damion Baugh. From a number and need perspective, Memphis has the advantage, though Hampton would be the central piece of any roster he's part of, which makes the numbers game largely irrelevant.
What is going to put things over the top is what his teammates can do. Kansas seems to have the better shooters, which is going to be vital in its sell to Hampton. However, Memphis could snag Lester Quinones. The Jayhawks will welcome back Udoka Azubuike and potentially Silvio De Sousa; the Tigers enroll five-star center James Wiseman. Another push.
In the end, Hampton cannot go wrong with either program. Kansas may be the safer pick due to Bill Self's track record, but Memphis is the sexy brand that is the hot program on the recruiting trail. My gut says he ends up in Lawrence, but that could change by the time the summer months roll around.
In today's day and age, where everyone thinks that they are a one-and-done, you never really know. Armando Bacot does have a tremendously translatable skill set to college and will be heavily relied next season at North Carolina. He could put up quality numbers as a freshman, which would correlate with early NBA interest. However, would Bacot want to test the shaky NBA waters immediately or return for another year and try to boost his stock? Knowing the prospect and his mindset, I would predict a two-and-done campaign for the skilled Bacot, which would give the Tar Heels an expanded window for success with holding down the fort down low.
Great question and that is one of the primary reasons why Jalen Green will not be reclassifying. Once Green and his family educated themselves on the entire process, to my understanding, they came to the decision that it was in their best interests for Green to remain in his original 2020 class.
If there was not an age requirement, my best guess is that he would be making the move up a year similar to what Hampton could do this summer. However, Hampton will be of the proper age after just one year in college to enter the NBA Draft and Green will not. By remaining in the 2020 class and having to play just one year in college, Green can control his story further before likely completing his lone year in college and being selected high within the lottery portion of the 2021 NBA Draft.
Memphis. Lester Quinones, one of the top seniors available this spring, was expected to visit Michigan this week but instead canceled his trip to Ann Arbor, knocking the Wolverines out of contention. Indiana just hosted him last week as he has also visited LSU, Maryland and Memphis in recent months. The Terps are about done with the 2019 class and LSU would love to snag him but this looks to be more of a two-horse race between Indiana and Memphis.

The Hoosiers might be the safe landing spot thanks to the cache of the program and the major need for what Quinones does best, which is make shots, but the Tigers have a ton of momentum. They are putting together the program's best class since John Calipari left and Quinones has come to love all that Penny Hardaway has pitched towards him. On May 10, Quinones will be an official member of the Memphis program.
Don't count out Kentucky or North Carolina, as both remain in the hunt for Jeremy Roach, but yes, this one does seem to be more of a two-horse race between Duke and Villanova. No one has recruited Roach longer than Villanova. Jay Wright and his staff pin-pointed Roach from the get-go and sold him on being 'the guy' dating back to his freshman year in high school.

However, with the likely departure of Tre Jones to the NBA next spring and the priority attention that Coach K himself has given to Roach is difficult to turn down. Sitting out his final travel ball season as he continues to recover from a torn ACL, Roach may commit before the beginning of his senior year and my best guess would be that it is the Blue Devils, though further work must be done by all of those involved.