Ben Easters ready to enroll early at Kansas
When Ben Easters started his senior season, it would be fair to say he was labeled a drop-back quarterback. But during the season that changed. He started to run more even on quarterback designed plays.
Adding that element to his game helped have a successful senior year.
"I feel like I played well," Easters said. "I was really happy to add more running and showing mobility. You and I talked about it before, but I was able to become a little more mobile this year and show off that I'm not just a sit back in the pocket kind of guy. I can move around if I need to."
Easters helped Brownsburg to an 8-2 record and placing fifth in the final state poll. It was a good senior season although he would have liked to advance further in the state playoffs.
"Senior year was awesome," he said. "Over the quarantine, we had a lot of senior led workouts and stuff like that. So, we had a lot of senior camaraderie and leadership come out that I've never seen in a team that I played on. We had a lot of leaders and were focused.
"Obviously, it didn't end like we wanted it to, but I've never felt closer to a team than I did this past year. That was really awesome. It's been a great season. We won on national TV and we beat our rival twice. Obviously, we couldn't come out on top at the end, but it was a great season, great year. I love all my teammates and coaches."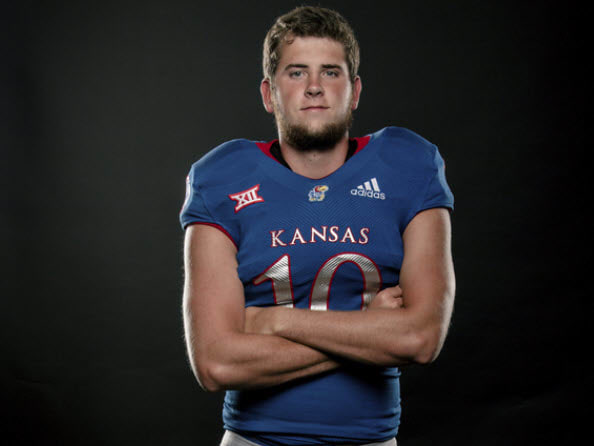 While Easters stayed focused on his team during the season, he was also in constant contact with Kansas offensive coordinator Brent Dearmon.
Dearmon worked with Easters at the Kansas summer camp in 2019. Dearmon also played in the Area league for Easter's head coach.
Easters said Dearmon would talk to him during the season about the Jayhawks game plan and what their plan of attack is.
"Coach Dearmon and I are in constant communication, which is awesome," Easters said. "That's what I want from a college coach. Someone who is in constant communication with his players, so I can really get a feel for him now before I even get the KU. And Coach Miles and I have stayed in touch. He's a super busy guy, so we're not able to talk all the time, but whenever we are, it's always a good conversation."
Easters has followed the Jayhawks this season and knows they are rebuilding the program combined with playing a lot of freshmen and sophomores.
Dearmon has maintained to Easters, the Kansas program is moving in the right direction and being built the right way.
"We're building from the ground up," Easters said. "Look at the recruiting classes that Coach Miles is bringing in. Look at LSU, they were undefeated national champions and undisputed last year. And now they aren't very good, because they're young. It takes time for young guys. Obviously, it sucks to see them lose, but I haven't worried about it one bit, because I know Coach Dearman has always said, 'We're heading in the right direction.' And I fully believe that we are."
Easters is going to experience all of it very soon. He plans to sign next week and then a month later will be on campus in Lawrence. He will graduate at semester and enroll early.
"It's been crazy to think about that I have two more weeks of high school," he said. "I sign next Wednesday. It is coming fast and I'm excited. I'm ready to embrace the challenge. I have a lot of goals that I want to get done for right now. I have future goals at KU that will make me a better man and a better player."