Brule gave Beaty the good news late at night
If David Beaty didn't get a good night sleep on Saturday, one of the reasons was probably Aaron Brule. The hard-hitting defensive back from Archbishop Rummel capped off a wild Saturday of recruiting for the Jayhawks with a late-night commitment.
Brule informed Beaty after 11:00 p.m. on Saturday night that he was committing. That news caused a lot of excitement for the Kansas head coach.
"It almost sounded as if coach Beaty was about to cry," Brule said. "He was very excited and he didn't believe it."
It was a weekend that is still being talked about where the Kansas staff landed commitments from several of the top prospects in New Orleans and the country.
"Being on the visit with those guys is amazing especially when we're all on the same page trying to come together and build something great," Brule said. "Going there with guys I know is really impactful when you have a plan to conquer Lawrence in the next one to three years."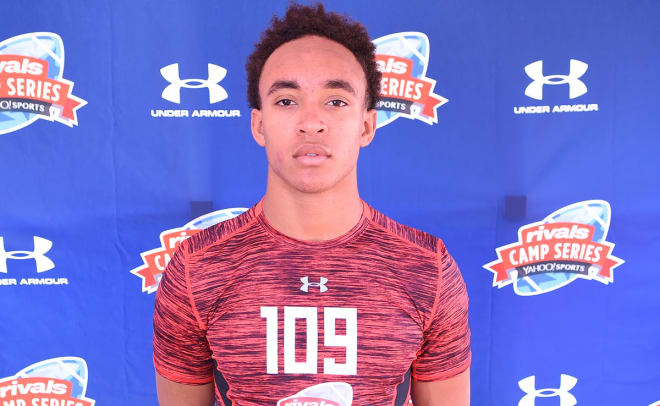 The Kansas staff has been targeting Brule for a long time. He's also pulled in offers from schools including Arizona, Arkansas, Tennessee, along with several others.
He spent time with Beaty, defensive coordinator Clint Bowen, Justin Johnson, and Tony Hull. The lead recruiter and coach who convinced him to take the trip was Hull.
"Coach Hull is a New Orleans native and he's great at what he does," Brule said. "All the coaches kept it real. They're not trying to sell anything to you. They said they love my downhill aggression. They said they didn't know what position they want me to play yet."
Brule took the unofficial visit with his mother Christine. He talked to her about committing and she said the decision was his call.
"She's really down with whatever I'm down with," Brule said. "She just wants me to make the right decision."
During the tour the players got to see the new locker room that Brule called "amazing." He also liked the new dorms that are under construction the players will live in. He didn't go to Kansas with the idea he would commit but that changed during the visit. He's received a lot of attention after going public with his decision.
"Knowing I've committed is exciting," Brule said. "You get a lot of congratulations and also some fake love but that comes with it."